Are you curious about the intricacies of the stock market? Do you want to understand how it operates and the advantages it offers to Indian investors? In this comprehensive guide, we'll break down the basics of the stock market, demystify its functions, and explore the benefits of investing in stocks.
What are Stocks?
Imagine stocks like slices of a pie. When you buy a stock, you're getting a share of a company. If the company does well, you share in its profits. For example, if you own stock in "ABC Electronics" and they make money, you might get a portion. The stock market is where these slices are bought and sold. If lots of people want a piece of "ABC Electronics," its stock price goes up. Just like a slice at a party, stocks might seem small, but they can grow over time, making your investment more valuable.
Stock Market Definition
At its core, the stock market is a platform where individuals and institutions trade ownership shares of publicly-listed companies. By purchasing shares, investors become partial owners, or shareholders, of the company. This ownership grants them the right to a portion of the company's profits and a say in its decisions.
How Does Stock Market Work?
Companies raise capital by issuing shares of stock, allowing investors to buy ownership stakes. This capital infusion fuels the company's growth and expansion without resorting to debt. The shares are listed and traded on stock exchanges, where buyers and sellers interact.
Often a common question among the people like most of us who have no idea about the stock market and we keep wondering- how does stock market work?
Think of the stock market as a trading game where you can buy and sell pieces of famous companies. Imagine you're collecting trading cards of your favourite athletes. If the athletes perform well, the value of their cards goes up, and you can sell them for a higher price. Similarly, if the companies you own stocks in do well, the stock prices rise, and you can sell them to potentially make a profit.
When a company's prospects improve, its stock price tends to rise, benefiting investors with capital gains. Additionally, some companies share their profits with shareholders through dividends. Historically, the stock market has delivered an average annual return of around 10%, making it an appealing option for growing wealth over time.
Stock Market Functions
Ownership Distribution: Companies use the stock market to sell ownership stakes, allowing them to attract capital from a diverse range of investors.
Investment Opportunity: The stock market provides individuals with the chance to invest in successful businesses and potentially earn returns.
Price Discovery: Stock prices reflect market sentiment, reflecting a company's performance and future prospects.
Liquidity: Investors can buy and sell stocks easily, thanks to the active nature of the market.
Wealth Creation: Successful investments in the stock market can lead to substantial wealth accumulation over time.
Benefits of Stock Market Investment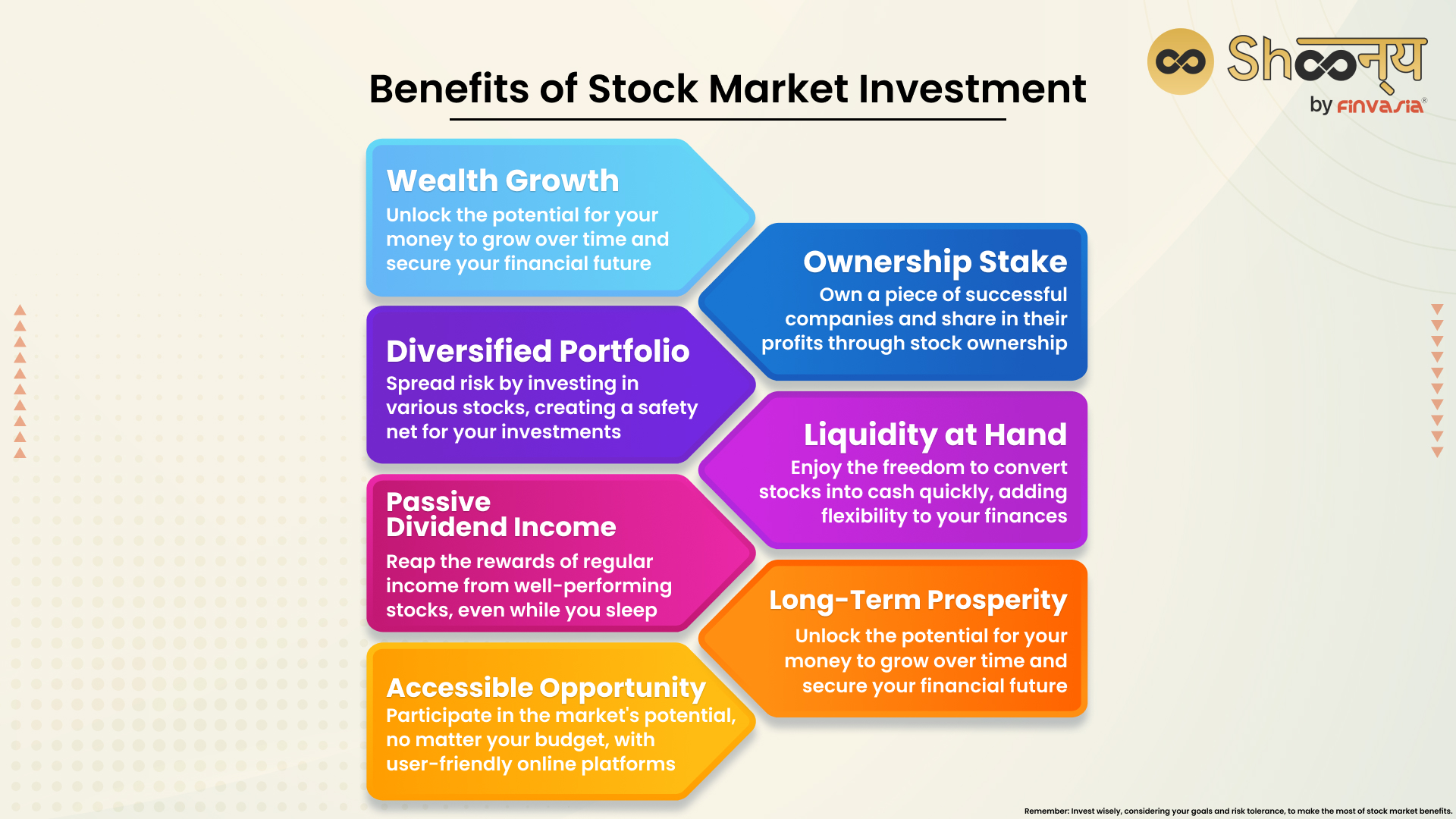 Diversification of Portfolio
Investing in stocks enables portfolio diversification, reducing risk by spreading investments across various companies and industries. This approach cushions the impact of poor performance by individual stocks.
Potential for High Returns
While stock market investments carry risks, they also offer the potential for high returns. Companies that experience growth can lead to significant capital gains for shareholders.
Liquidity
Unlike some other investment options, stocks are highly liquid. Investors can quickly buy or sell shares, allowing them to react to market changes efficiently.
Inflation Hedge
Stock market investments can serve as a hedge against inflation. As companies grow and generate profits, their stock prices often rise, helping investors preserve purchasing power.
Visualise Indian stocks as a protective umbrella during the rain of rising prices. When companies flourish, their stock prices often rise, helping shield your purchasing power from the downpour of inflation. Your umbrella of stocks ensures that your money doesn't get drenched by rising costs.
Participation in Company Growth
Owning stock grants you a share in a company's success. As the company expands and becomes more profitable, your ownership stake can appreciate in value.
Dividend Income
Many companies distribute a portion of their profits as dividends to shareholders. This can provide a steady stream of income, especially for long-term investors.
Think of Indian stocks as receiving a share of a delicious feast. When companies make profits, they might share a portion with you in the form of dividends. It's like getting a tasty treat for being part of the Indian stock market party. Regular treats can build a satisfying income.
Flexibility and Control
Investors can tailor their stock portfolios to align with their financial goals, risk tolerance, and investment preferences.
Taking the First Step in Stock Market Investing
By grasping the basics of stock market concepts, you're well-prepared to navigate this dynamic landscape. As you venture forth, remember that investing demands a blend of prudence and patience. The stock market's potential to amplify wealth is significant, but it's crucial to approach it with careful research and an eye on long-term goals. So, take that leap with confidence, armed with knowledge, and embrace the journey of potential financial growth and empowerment.
FAQs| Basics of Stock Market
Can I invest directly in the stock market?
Yes, you can invest in the stock market through brokerage accounts or online trading platforms. Alternatively, you can invest indirectly through mutual funds or exchange-traded funds (ETFs).
What's the difference between the primary and secondary markets?
The primary market involves the initial issuance of shares by a company, while the secondary market is where these shares are bought and sold among investors.
Are there risks associated with stock market investing?
Yes, investing in stocks carries risks, including market volatility and the potential for loss of capital. It's essential to conduct thorough research and consider your risk tolerance before investing.
How can I get started with stock market investing?
Start by educating yourself about different stocks and investment strategies. Open a brokerage account, research companies, and consider consulting with a financial advisor.
What is the basic concept of the stock market?
The stock market is where investors buy and sell shares of companies, becoming partial owners and sharing in their profits.
What are the 4 types of stocks to trade?
Common Stocks, Preferred Stocks, Growth Stocks, and Value Stocks are the four main types of stocks that traders can engage with.
How does the stock market work for beginners?
For beginners, the stock market works by allowing them to buy and sell shares of companies. As companies grow, stock prices can rise, leading to potential profits.
How do you make money from a stock?
Making money from a stock involves buying shares at a lower price and selling them at a higher price, capitalising on price appreciation.
Who controls the stock market?
The stock market is not controlled by a single entity; it operates through various stock exchanges, brokerage firms, and regulatory bodies that ensure fair trading practices.
What are the 5 benefits of investing?
Investing offers potential for wealth growth, diversification, participation in company success, dividend income, and a hedge against inflation.
What are the advantages and disadvantages of the stock market?
Advantages include potential high returns and liquidity, while disadvantages include market volatility and the risk of losing invested capital.

______________________________________________________________________________________
Disclaimer: Investments in the securities market are subject to market risks; read all the related documents carefully before investing.