If you wish to start stock market investing, you may already be familiar with the stock market and stock exchange, but you might be curious to learn more about what is meant by NSE and BSE.
The National Stock Exchange (NSE) and the more established Bombay Stock Exchange (BSE) are the two primary stock exchanges in India .  
What is NSE?
The National Stock Exchange, or NSE, is India's leading stock exchange. The world's fourth largest, it became the first stock exchange in India to provide a screen-based trading system.
The NSE was first created to bring transparency or clarity to the Indian market system, and it has largely succeeded. The NSE successfully provides services such as trading, clearing, and settling debt and stocks to domestic and foreign investors with the assistance of the government.
What is BSE?
Compared to the NSE, the BSE, or the Bombay Stock Exchange, is far older, being Asia's first stock exchange. BSE improved the nation's financial system and gave India's capital markets a much-needed boost. Its product portfolio has grown to offer risk management, clearing, and settlement services.
Difference between BSE and NSE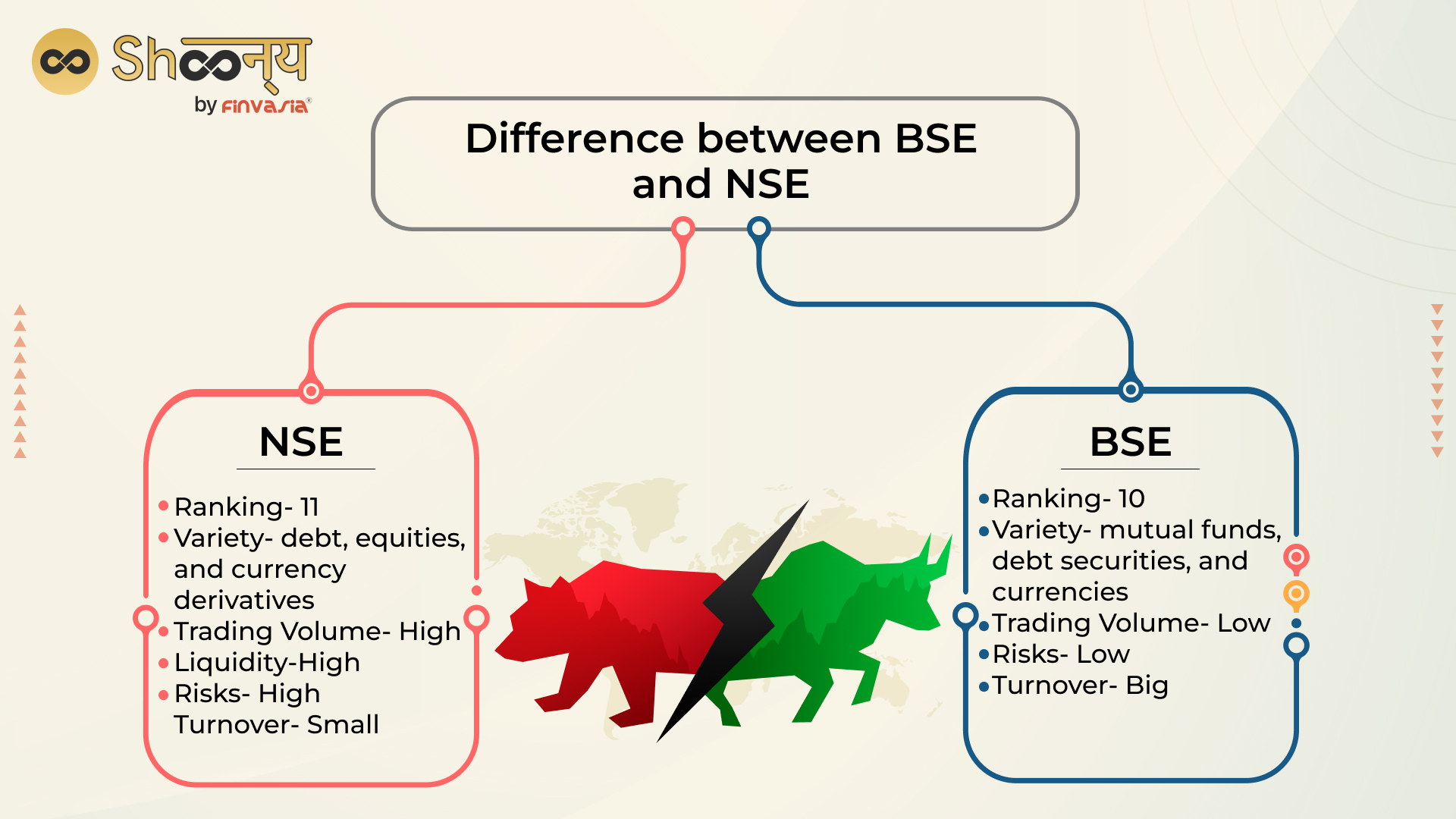 Let's do a comparative analysis between BSE and NSE
Ranking – NSE stands eleventh among all stock exchanges worldwide, while BSE stands tenth.
Variety- NSE deals with trading in debt, equities, and currency derivatives, while BSE deals with trading in mutual funds, debt securities, and currencies are encouraged by BSE.
Trading- In the stock market trading, NSE has a high trading volume, indicating numerous buyers and sellers of equities. In contrast, BSE has a lower trading volume.
Liquidity- NSE is a superior option because it has more liquidity than BSE. Increased liquidity means more options to turn equities into money and more trading opportunities.
Stocks- The majority of company stocks are included in the BSE list, which is enormous. Both NSE and BSE lists include the same stocks.
Risks- BSE is the best option for investors in India who are looking to buy shares of emerging companies, while NSE would be the better alternative if you are a day trader who is willing to take on the risk of trading shares using derivatives, futures, and options.
Derivative Contract Market- NSE Nifty and Bank Fifty are heavily traded because of their liquidity. With Nifty, NSE has dominated the derivative contract market.
Turnover- The way taxes are collected varies between NSE and BSE. In light of this, NSE is appropriate for smaller turnovers, whereas BSE works best for larger turnovers.
Final Words
The Foundation of the investment world is stock market indices. It is not only a benefit; it
is a requirement. Without it, the stock market would have been a flurry of investors looking for good investments. The value of stock market indices lies in the simplicity of investing. Both BSE and NSE are safe and offer top-notch online services, making them ideal options.
So, now that you know the stock market indices, you can start trading through Apps like Shoonya. It is a trading platform introduced by Finvasia, registered with all major stock exchanges in India.