In the dynamic world of Indian stock trading and investing, having a Demat account is essential. It's the digital vault that holds your shares and securities electronically. When it comes to Demat accounts, one term that has been gaining significant attention is Demat account with zero brokerage. In this informative blog, we'll take a brief look at what zero brokerage means, its advantages, and how to open a zero brokerage Demat account.
What is a Demat Account with Zero Brokerage?
A Demat account with zero brokerage simply means that you can buy and sell shares and securities without incurring any brokerage charges. Brokerage charges are the fees or commissions you pay to your stockbroker for facilitating your trades. Let's illustrate this with an example:
Imagine you want to buy 100 shares of a well-known Indian company, say Reliance Industries, at a market price of Rs. 2,500 per share. Typically, a brokerage fee of around 0.1% to 0.5% (or even more) would be charged on your transaction, depending on your broker. With a zero brokerage Demat account, you won't have to pay any brokerage fee for this transaction.
Free Demat Account with No Annual Charges
A free demat account with no annual charges is a valuable option for investors looking to minimize costs while participating in the stock market. It's a cost-effective way to manage your investments and maximise your returns.
Several brokers in India offer free demat accounts with no annual charges for an initial period.
When choosing a free demat account, it's essential to consider other factors such as trading platforms, customer service, and research tools to ensure it align with your investment goals. Researching various brokers and their offerings can help you make an informed decision.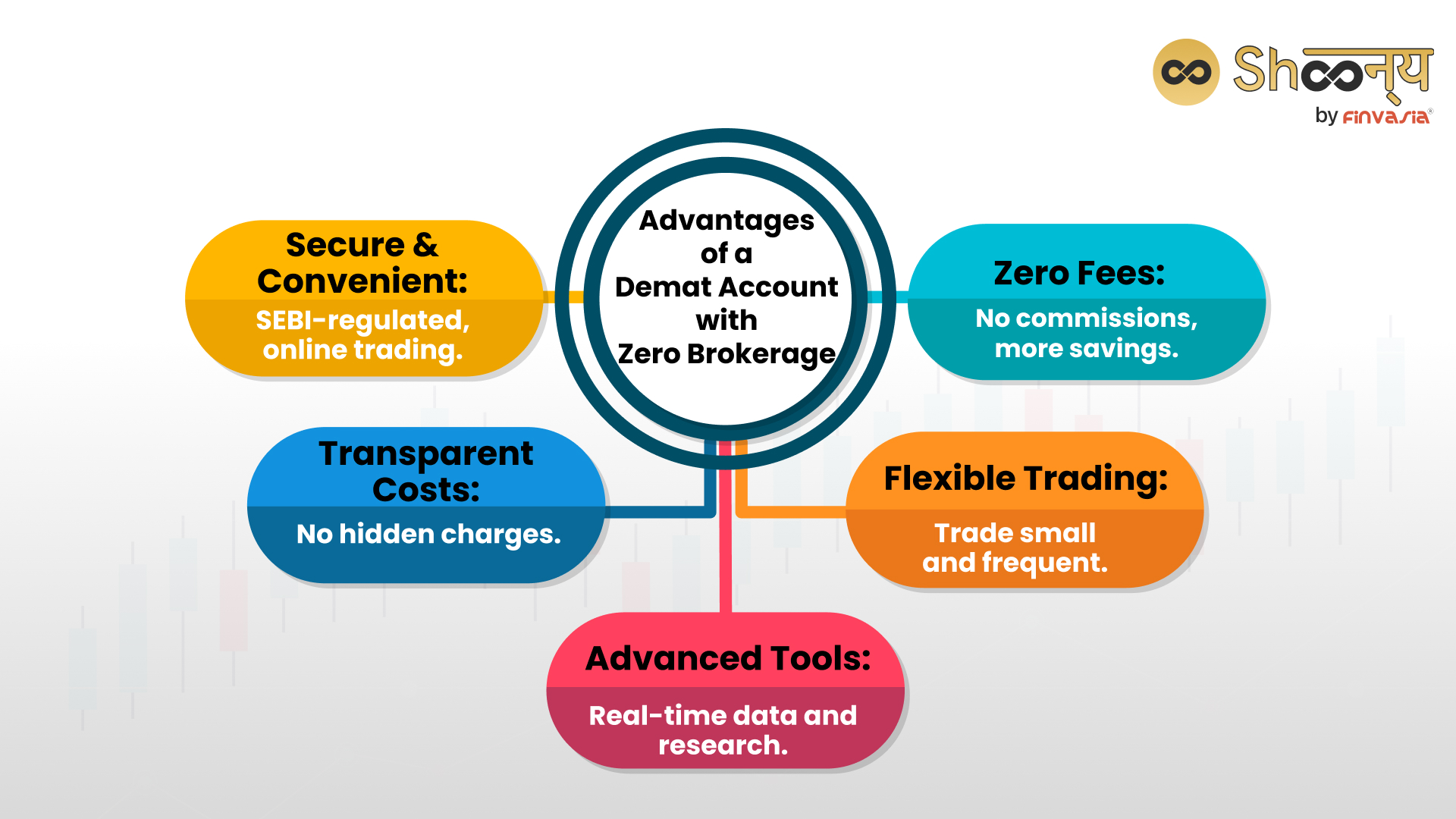 Benefits of a DEMAT Account with Zero Brokerage in India
Cost Savings: The most obvious advantage is cost savings. You retain the entire profit from your trade, which can add up significantly over time. This is particularly beneficial for frequent traders and investors.
Increased Returns: Zero brokerage allows you to maximise your returns on investment. You can invest more capital without worrying about brokerage eating into your profits.
Ideal for Small Investors: Small investors, who may not trade in large volumes, benefit the most. They can invest without worrying about brokerage costs eroding their returns.
Transparency: Zero brokerage accounts often come with transparent fee structures. You know exactly what you're paying for, eliminating hidden charges.
Diversification: With no brokerage costs, you can diversify your portfolio more effectively. This allows you to spread risk across various stocks and sectors.
How to Open a Zero Brokerage Demat Account
Opening a zero brokerage Demat account is a straightforward process:
Research: Begin by researching brokers that offer zero brokerage Demat accounts. Compare their features and services.
Choose the Right One: Select the broker that aligns with your trading and investment goals. Ensure they offer a zero brokerage plan for the segments you want to trade in, such as equity, derivatives, or commodities.
Online Application: Visit the broker's website and fill out the online application form. You'll need to provide your personal details, PAN card, Aadhar card, bank details, and a passport-sized photograph.
Verification: The broker will verify your documents, usually through a KYC (Know Your Customer) process. This can be done digitally or in person.
Account Activation: Once your documents are verified, your Demat account will be activated. You will receive your account details and login credentials.
Fund Your Account: Transfer funds into your Demat account to start trading. Most brokers offer a seamless online fund transfer facility.
Shoonya, a multi-asset online trading platform, offers a lifetime free demat account. Check out the website to know more.
DP Charges
DP (Depository Participant) charges are fees associated with the services provided by a Depository Participant in the Indian stock market. Depository Participants are financial institutions, including banks and stockbrokers, that act as intermediaries between investors and the central depositories like NSDL (National Securities Depository Limited) and CDSL (Central Depository Services Limited). These charges are typically incurred by investors when they open and maintain a Demat (Dematerialized) account to hold their securities in electronic form.
Shoonya By Finvasia DP Charges
Shoonya by Finvasia's DP charges stand at Rs 9 + GST per scrip. It's crucial to note that these charges exclusively apply when you sell the shares from your holdings.
Conclusion
A Demat account with zero brokerage can be a game-changer for traders and investors in the Indian stock market. It offers cost savings, transparency, and the opportunity to maximize returns. By choosing the right broker and following the simple steps to open an account, you can take full advantage of this financial opportunity and enjoy a hassle-free trading and investment experience. So, why wait? Start your journey towards zero brokerage trading today!
FAQs| Benefits of Demat Account with Zero Brokerage
What are the benefits of zero-commission trading?
Zero commission trading saves you money on fees, allowing for more cost-effective trading and frequent transactions.
Which Demat account is the best zero brokerage?
The best zero brokerage Demat account depends on your preferences. Consider factors like account opening charges, annual maintenance fees, trading platforms, customer service, and research offerings.
What are the benefits of a free Demat account?
A free Demat account cuts costs, making it easier to invest and manage various securities in one place while simplifying your financial life.
How do you trade with zero brokerage?
Trade with zero brokerage by selecting a broker offering this service, opening a trading account, funding it, and using their commission-free trading platform to execute transactions.
How can I open a lifetime free Demat account?
To open a lifetime free Demat account, you can choose a zero brokerage online broker. Fill out their online application form, submit KYC documents, and complete an in-person verification; upon approval, you'll receive login credentials.
Which Demat account is best and free of cost?
The best free Demat account depends on your preferences. Consider factors like fees, trading platforms, customer service, and research tools. Look for Brokers that offer free Demat accounts with user-friendly platforms and research resources.
______________________________________________________________________________________
Disclaimer: Investments in the securities market are subject to market risks; read all the related documents carefully before investing.