Investing in the stock market isn't a gamble but a strategic approach. To embark on your investment journey, understanding the fundamentals is crucial. Central to this journey are the Demat and Trading accounts. Let's delve into the nuances of these accounts, highlighting the differences between Demat and Trading accounts and the importance they hold for Indian investors.
Demat Account: Storing Investments Digitally
What's a Demat Account?
A Demat Account, or Dematerialized Account, is your digital repository for various financial instruments like shares, bonds, and mutual funds. Its primary purpose is to eliminate the risks associated with physical share certificates by converting them into electronic format.
Demat Account Number
Every Demat Account is assigned a unique number, often referred to as the "Demat Account Number." This number acts as an identification for your account and is used for various transactions and communications related to your holdings.
Working Principle: Think of a Demat Account as a savings account for your securities. Just as you store money in a bank account, a Demat Account holds your financial instruments electronically. This ensures safekeeping and easy access to your investments. Every Demat Account comes with a unique 16-digit number, serving as your identification.
Trading Account: Facilitating Stock Market Transactions
What's a Trading Account?
A Trading Account acts as a gateway to the stock market. It enables you to execute buy and sell orders for various financial instruments, including shares. While a Demat Account stores your securities, a Trading Account helps you actively engage in trading activities.
Trading Account Number
A trading account number is a unique identifier assigned to an individual or entity by a brokerage firm. It's used to facilitate the buying and selling of financial instruments, such as stocks, bonds, and derivatives, within the financial markets. This number is crucial for accurate record-keeping, order execution, and tracking of trading activities.Functionality: Consider a Trading Account as your tool for trading. It serves as a link between your bank account and Demat Account, facilitating seamless transactions. When you want to buy or sell shares, you'll use your Trading Account to place orders.
Difference Between Demat and Trading Accounts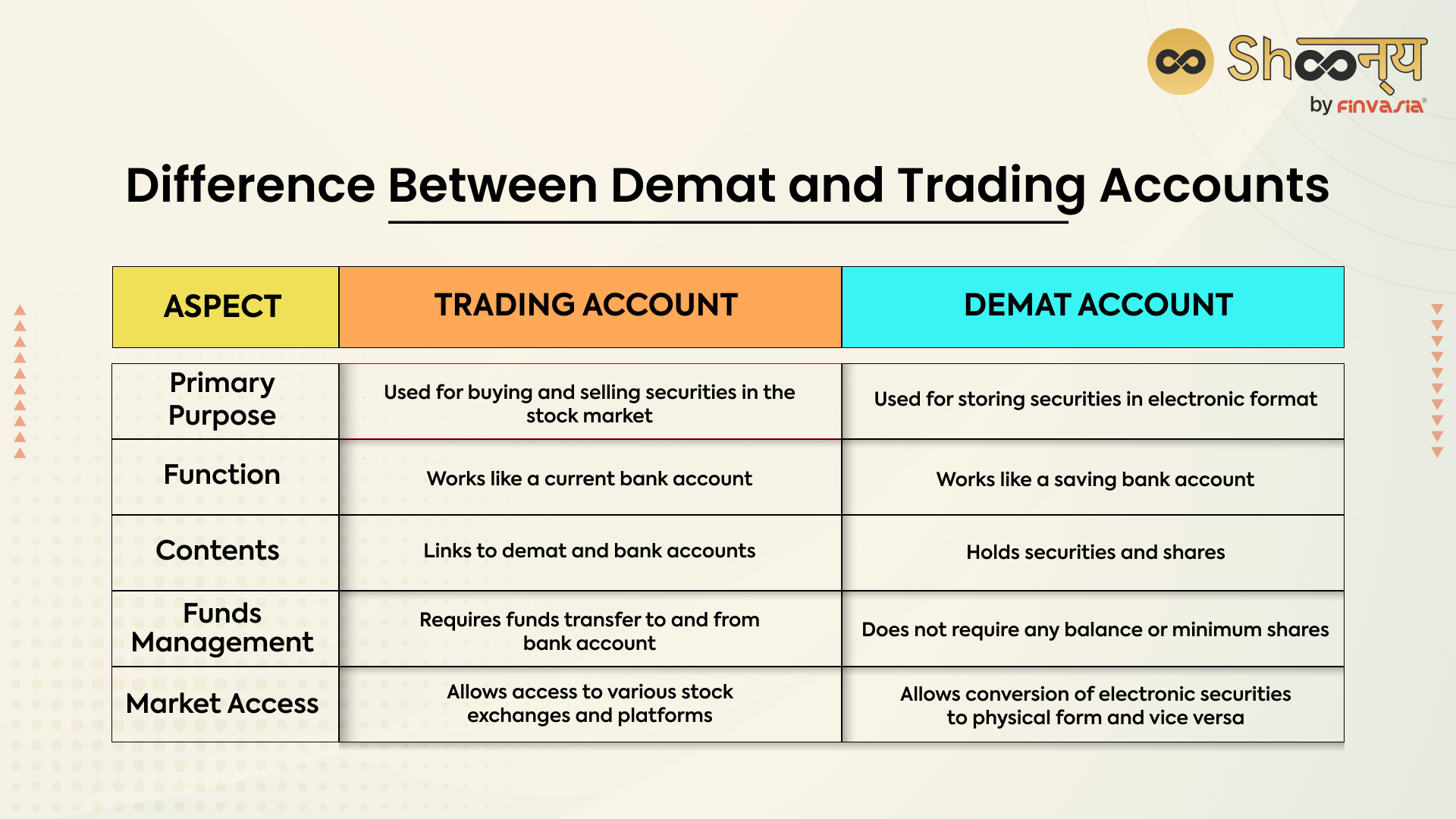 Understanding the Key Differences Between Demat and Trading Account
Functional Role:
Demat Account: It holds your investments in electronic format, ensuring safety and accessibility.
Trading Account: It enables you to execute buy and sell orders for securities, acting as a trading interface.
Identification:
Demat Account: Each account is identified by a unique 16-digit number.
Trading Account: You're assigned a unique trading ID or number.
Nature:
Demat Account: Similar to a savings account, it holds securities for the long term.
Trading Account: Allows dynamic trading activities, including buying and selling.
Opening Process: To open a Demat and Trading Account, follow these steps:
Choose a reputable broker with suitable charges.
Fill out the online account opening form with personal and KYC details.
Upload necessary documents, including PAN card, ID proof, and address proof.
Complete in-person verification (IPV) to confirm your identity.
E-sign the documents through your Aadhaar-linked phone number.
Once approved, receive your login and account details.
Fees and Charges: What to Expect
Demat Account:
Involves annual maintenance charges (AMC) varying among service providers.
Transaction/custodian fees might apply.
Open a free DEMAT account today!
Trading Account:
Typically, it doesn't carry charges for account opening.
Brokerage fees are levied per transaction, varying based on transaction value or a flat fee.
Demat and Trading Account: A Synergetic Bond
Your Demat and Trading Accounts work harmoniously:
Demat Account stores your securities safely.
Trading Account executes transactions, buying and selling shares.
Can You Have One Without the Other?
You can possess a Demat Account without a Trading Account, but it won't enable active trading.
To buy and sell shares, you require both accounts.
A Trading Account is essential for stock market participation.
Making the Right Choice:
Choose a broker offering both Demat and Trading accounts for a seamless experience.
Opt for discount stockbrokers providing hassle-free account opening, like Bajaj Financial Securities Limited, with a "3-in-1" account for Demat, Trading, and Savings.
Conclusion: Your Path to Informed Investment
In the world of Indian stock markets, Demat and Trading Accounts are your companions on the investment journey. While Demat Account safeguards your securities, a Trading Account empowers you to make informed trading decisions. Remember, choosing the right broker makes all the difference. Embrace the digital age of investing with a combination of these accounts, and step confidently into the world of stock market success.
______________________________________________________________________________________
Disclaimer: Investments in the securities market are subject to market risks; read all the related documents carefully before investing.