When companies raise money from the general public, they give them a financial instrument called Equity. This instrument represents that the investors hold the equivalent percentage of ownership to the amount they invested.
Features of Equity Shares
Maturity period: The equity holdings have no fixed maturity period. The investor can redeem his amount only after the liquidation when all the other shareholder's dividends and debts are paid out.
Voting rights: Equity shareholdings give the right to investors to use their voting rights in the company's critical decisions.
Limited Liability: The Equity holder's liability is limited only to the value of the shares they invested in.
Income for Equity Shares: They have the right to get the share in case of capital appreciation, residue income after paying out to the preferred holders and debts, and at the time of liquidation.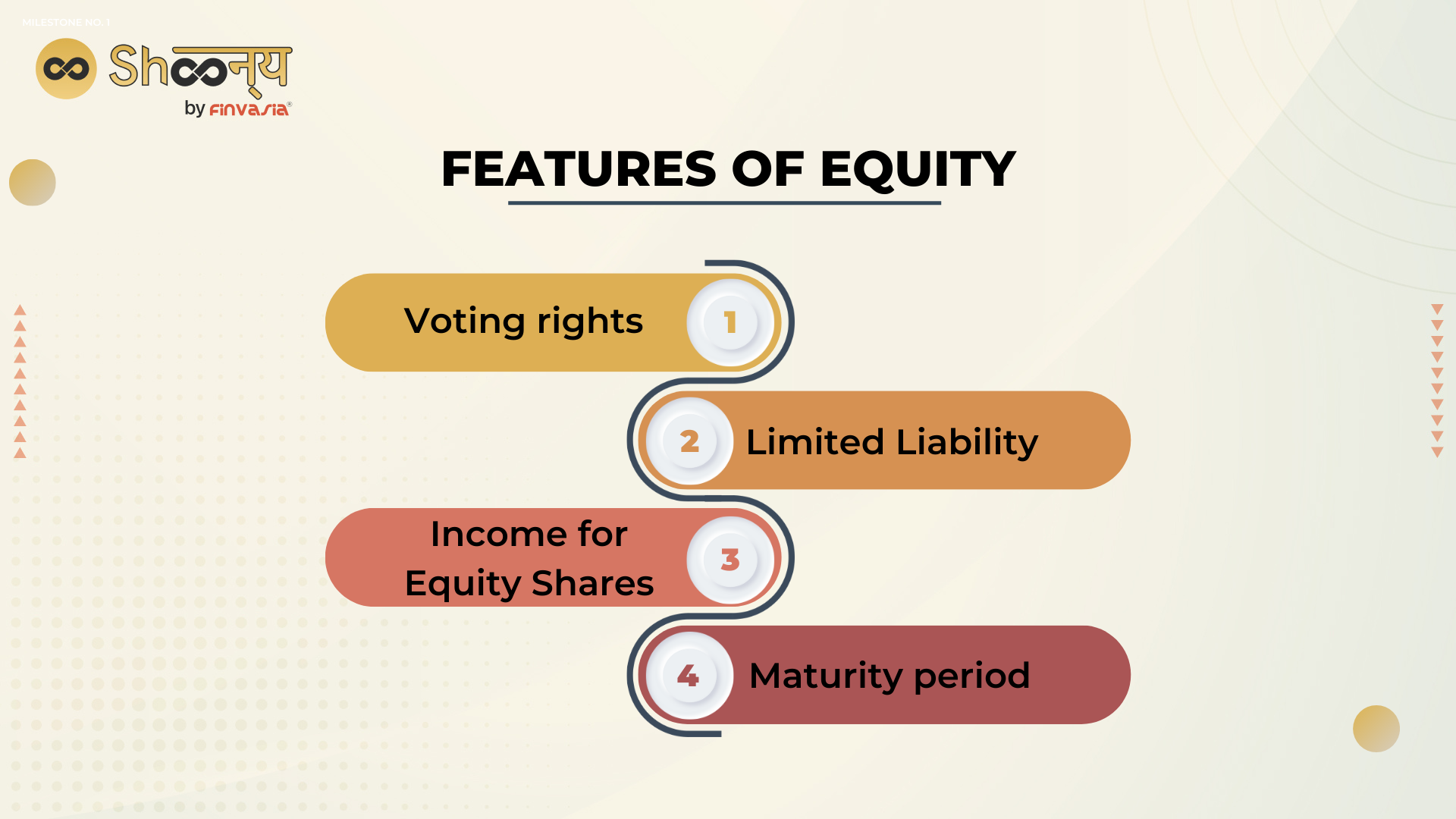 What are Derivatives?
A derivative is a financial contract between the parties that derives its value from the underlying assets such as stocks, commodities, currency, etc.
Characteristics of Derivatives:
Trade places: Derivatives are traded mostly at central trade exchanges or over the counter.
Dependence on underlying assets: The value of Derivatives is directly dependent on the value of their underlying assets.
Estimations: Both buyer and seller estimate the opposite fluctuations and bet to earn higher profits.
Similarities between Equities and Derivatives
Here are some of the similarities between Equity Shares and Derivatives.
Equity, as well as Derivatives, are financial instruments used for the capitalisation of the wealth of the investors.
Both the Equity and the Derivatives are traded in the same market i.e stock market.
What are the differences between Equity and Derivative?
Meaning:
a. Equity refers to capital contribution.
b. Derivatives refers to a financial instrument.
Value Dependence:
a. Demand and supply determine equity value.
b. The underlying asset determines the Derivative's value.
3. Purpose of Investment:
a. In Equity, the purpose is to earn profits.
b. In Derivatives, other than profits, the purpose could be to hedge against possible risks.
4. Maturity period:
a. Equity doesn't have a fixed maturity period.
b. Derivatives are time-dependent instruments.
Conclusion
In the end, we can conclude that Equity and Derivatives are two different investment options. Before starting off with an investment in any of the two, the investor needs to thoroughly understand All about Derivatives Trading.
Do you know?
To save yourself from trade brokerage, you can now open a free Demat account with Shoonya and trade for a lifetime at zero brokerage.