The stock market is a wide platform, and stepping into it might feel like you are entering a new city full of potential opportunities and promises. But wait, every explorer needs a guide, a mentor who knows the way through the twists and turns. That's where stock brokers step in – your partners in this thrilling expedition. Imagine them as your compass, leading you towards the treasures of financial growth. Welcome to a journey where every decision matters and the right broker can make all the difference. This guide is your map, compass, and treasure trove of knowledge. Let's begin our quest to help you choose your perfect online share broker out of all the existing best brokers for stock trading in India.
Step 1: Define Your Trading Goals
Before diving into the world of brokerage options, take a moment to pinpoint your specific needs and trading objectives. Your choices will vary depending on your investment experience and goals.
Newcomer Considerations: If you're a beginner, focus on platforms that offer educational resources, comprehensive glossaries, accessible customer support, and the opportunity to practice with virtual trades before risking real money.
Intermediate Aspirations: For those with some experience, seek out online share broker platforms with higher-level educational content authored by experts, access to fundamental and technical data, and a variety of opinion-based resources from professional investors and analysts.
Seasoned Investor Priorities: Experienced investors who've executed numerous trades may prioritize advanced charting tools, options for conditional orders, and the ability to trade a wide range of securities, including derivatives, mutual funds, commodities, fixed-income assets, and stocks.
Alignment with Your Goals: Be honest about your current position in your investing journey and where you aim to reach. Are you building a retirement fund with passive investments, exploring day trading, managing your own portfolio, or seeking professional guidance? Your choice will depend on your specific path and goals.
Active vs. Passive Approach: Consider whether you want to actively manage your investments through day or swing trading, transition to full-time investing, or take a more hands-off approach with long-term holdings.
Types of Trades: Determine your preferred trade style. Are you confident in your decisions and need a quick execution platform, or do you require a broker with extensive resources to identify opportunities? Specify the types of securities you want to trade, such as stocks, mutual funds, or ETFs. For advanced investors, consider options like futures, fixed-income securities, margin trading, conditional orders, extended-hours trading, and automated trading.
Once you are sure and settled with the first step, now comes the time when you must start researching among the best brokers in India.
Step 2: Grasping Stock Broker Basics
Definition of Stock Brokers: Unlocking Their Vital Role
At the heart of every stock market transaction lies the stock broker, an indispensable intermediary connecting eager investors to the dynamic world of stocks. Understanding their role is paramount as they facilitate the buying and selling of securities, ensuring that your investments find their way into the market. They act as the bridge, enabling individuals like you to participate in the financial markets. As you embark on your journey of choosing the top share broker, remember that selecting the best stock broker in India is a decision that warrants meticulous attention and thorough research.
Types of Stock Brokers: Difference between Full-Service vs. Discount Brokers
Just as the stock market offers a spectrum of investment opportunities, online share brokers come in various shades. Full-service brokers offer a comprehensive suite of services, from research and advisory to personalised support, but they typically come with higher fees.
On the other hand, discount brokers provide cost-effective solutions, making them an attractive option for self-reliant investors. By understanding these distinctions, you can align your choice with your unique investment goals.
Full-Service vs. Discount Brokers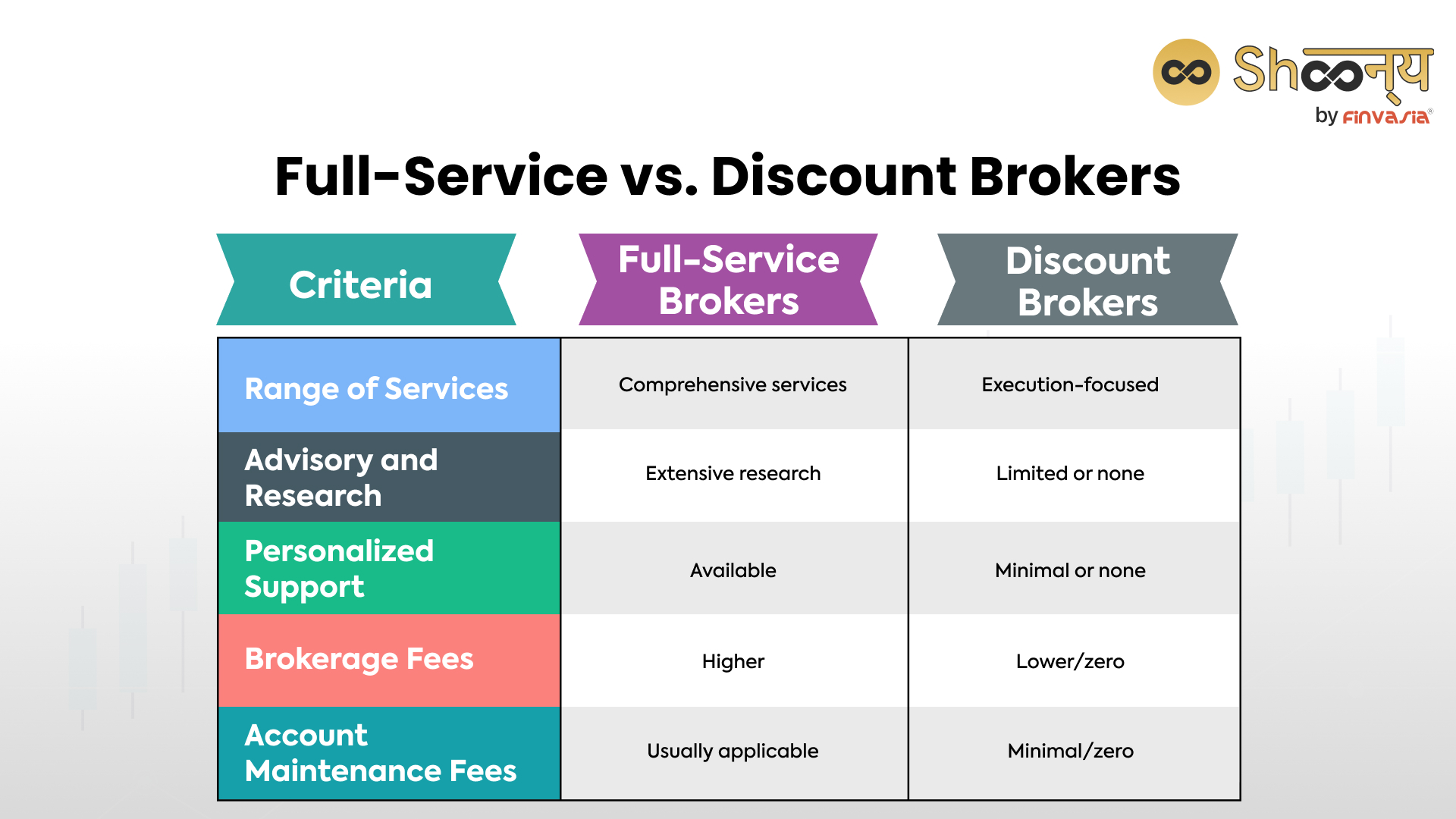 Brokerage Fees and Costs: The Price of Participation
In the financial world, every stock market-related transaction has a cost associated with it, such as brokerage fees and costs. These expenses include trade execution fees, account maintenance charges, and more. When venturing into the world of investments, it's crucial to understand the fees and charges linked to the top share brokers in India. This knowledge ensures that your investment journey remains cost-effective and well-informed.
Step 3- Key Considerations for Online Share Broker Selection
User-Friendly Platforms: Your Trading Companion
For those new to the world of trading, a user-friendly platform can be a game-changer. The best stock broker in India is the one that offers a platform with easy accessibility for all traders ranging from beginners to advanced. This serves as the gateway to seamless transactions, real-time data, and user-friendly tools that empower you to make informed decisions.
Reputation and Credibility: The Pillars of Trust
In the world of finance, trust is everything. Learn how to assess a share broker's reputation, track record, and credibility. Ensuring that your chosen share broker is a trustworthy partner is a crucial step toward securing your financial future.
Range of Investment Options: Diversification as a Strategy
Diversification is a key tenet of successful investing. From equities and mutual funds to commodities and derivatives, having access to diverse investment options allows you to build a well-rounded portfolio tailored to your goals and risk tolerance. Always prefer an online share broker that offers you access to multiple investments and assets through a single platform.
Shoonya, one of the best stock brokers in India, offers a multi-asset platform with access to a free demat account, more than 100 technical indicators, and AI-powered stock market predictions.
Responsive Customer Support: A Lifeline for Investors
No matter how experienced you are, questions and concerns can arise. That's where responsive customer support comes into play. Select an online share broker with prompt and knowledgeable support, ensuring a smoother investment experience.
Step 4- Exploring Leading Online Share Brokers in India
Overview of Best Online Brokers in India
Multiple online share brokers have entered the Indian stock market with the rise of digitalisation, zero brokerage demat accounts, and technological advancements.
Shoonya is one of the stock brokers in Chandigarh, widely accessible all over India through its easy-to-use online trading platform that offers zero brokerage trading with zero hidden charges and zero hassles.
Highlighting Distinctive Features: Beyond the Basics
Zero-Commission Trading: Shoonya sets itself apart from other online share brokers in India by offering commission-free trading across various asset classes, making it an appealing choice for investors.
Comprehensive Financial Services: Shoonya extends a diverse suite of financial services, ranging from institutional solutions to user-friendly retail trading platforms.
Cutting-Edge Technological Tools: Shoonya's trading platform features advanced tools, intuitive technical indicators, and user-friendly interfaces, catering to traders of all experience levels.
Step 5- Step-by-Step Account Opening Process
Choose a Stockbroker: Start your journey by selecting the best online stockbroker that suits your needs, ensuring an informed decision.
Complete the Application Form: Navigate the paperwork by filling out the application form, including KYC documents, for transparency and security.
In-Person Verification: Authenticate your documents through online methods or in-person visits to the broker's office, if needed, to ensure compliance with regulations.
Initial Margin Deposit: Fund your account with an initial margin deposit, kickstarting your stock trading journey with the capital for investments.
Conclusion
The journey to financial growth in the Indian stock market is exciting and promising. Armed with online share broker selection insights, you must now be able to lead your investment journey with confidence. Remember, your chosen online stock broker will guide your ship towards your financial goals.
______________________________________________________________________________________
Disclaimer: Investments in the securities market are subject to market risks; read all the related documents carefully before investing.