Investing is a long-term game. With the widespread knowledge and a knack for more, nowadays, every individual is looking for effective long-term investments to save themselves from market volatility and reap long-term benefits. Are you also one of them? Do you belong to the category of those market players popularly quoted as the 'buy and hold' or commonly called long-term investors?
Long-term investments are believed to be one of the safe and best investment options in India. Now, whether you plan to indulge in stock trading, invest in bonds, try mutual fund investment, or a combination of different investment options, the key to success is staying committed.
In today's guide, we will help you explore money investment ideas for the long run and some insights into the strategies for successful long-term investments in 2023.
What are Long-Term Investments?
Long-term investments are the way to invest money for a longer period of time, say a year, years, or even a decade.
Have you heard one of your uncles or grandparents talking about investing in FD and locking in your money so that you don't spend on waste things and ultimately earn the best return on your investment?
Remember, long-term investment options may be many, but you must be disciplined and follow a strategic approach.
Just as a tree needs water, sunlight, and nutrients to grow, long-term investments need time, discipline, and a sound investment strategy to succeed. Indian market's bucket is overflowing with online trading platforms offering the best investment plans ever. However, in order to make a safe investment and earn a good return, you need to build a solid financial foundation.
Strategies of Long-term Investments
If you are wondering, long-term investing is an easy task; of course, it is.
But, you need to strategize how you will invest your money in the Indian Market.
Did your office colleague and her story about hefty returns on mutual funds encourage you to try mutual fund investments?
But, my friend, this is not how you choose the best investment option for yourself!
It takes proper planning and strategy.
You need to make a proper plan to make safe investments. Here are some strict strategies you should follow while making long-term investments:
Investment Goals
The best way to invest money is initiating by identifying your investment goals. Once you know your goals, it is easy to narrow down your way to safe investments.
First Step- Begin by identifying and planning your long-term financial goals.
Second Step- Note down the time frame and your risk tolerance.
Depending upon your risk-taking capacity, you can choose the asset class-
Stocks, bonds, mutual funds, commodities, or even try currency trading; however, it is a must that you are aware of the risks involved in currency trading.
For instance:
If you are a risk taker, want to enjoy better returns with additional risk, and wish to trade advanced equities, investments are one of the best ways to invest money in the market. However, you can always take the assistance of a zero-commission stockbroker to ensure that you choose the right asset classes that align with your long-term investment goals and risk profile. Here are some of the most common long-term investment goals that act as a driving force toward return-earning money investment ideas.
Marriage of your children
Child's higher education
Buying or constructing your dream house
Retirement planning
2. Diversification-
Diversification is the key to balancing safety, security, profit, and return on stock market investments. In order to make sure that you do not invest all your hard-earned money into one asset class, it is always suggested that you strategically divide your money investments between assets classes with varied characteristics, like stocks and bonds, or try commodity trading in the stock market, to reduce the impact of market volatility on your investment returns.

3. Focus on the Long-Term
Never try to time the market; it is not a suitable money investment idea if you frequently keep taking your money in and out of the stock market. Focus on a long-term goal, choose the best long-term investment plan, and wait for it to mature.
4. Begin Early
It is never too late to start with long and safe investments. You have more time to grow your investments if you start investing early. Compounding allows even small contributions to add up over time.
5. Stay Disciplined
Long-term investing requires patience and discipline. Don't get swayed by the urge to earn quickly in share market trading. Stick to a well-thought-out investment plan.
6. Keep Rebalancing your portfolio
Regularly rebalancing your portfolio helps ensure that your money market investments are safe.
7. Know your Risk Limit
Do not be swayed away by the greed for higher investment returns. Know that the market investments are subject to market risks, and you need to do proper research about the asset class, know its benefits and drawbacks, and then take any decisions.
Benefits of Long-Term Investments
For someone rightly said, 'Forget the stress of day trading, focus on long-term investment plans and think of your retirement".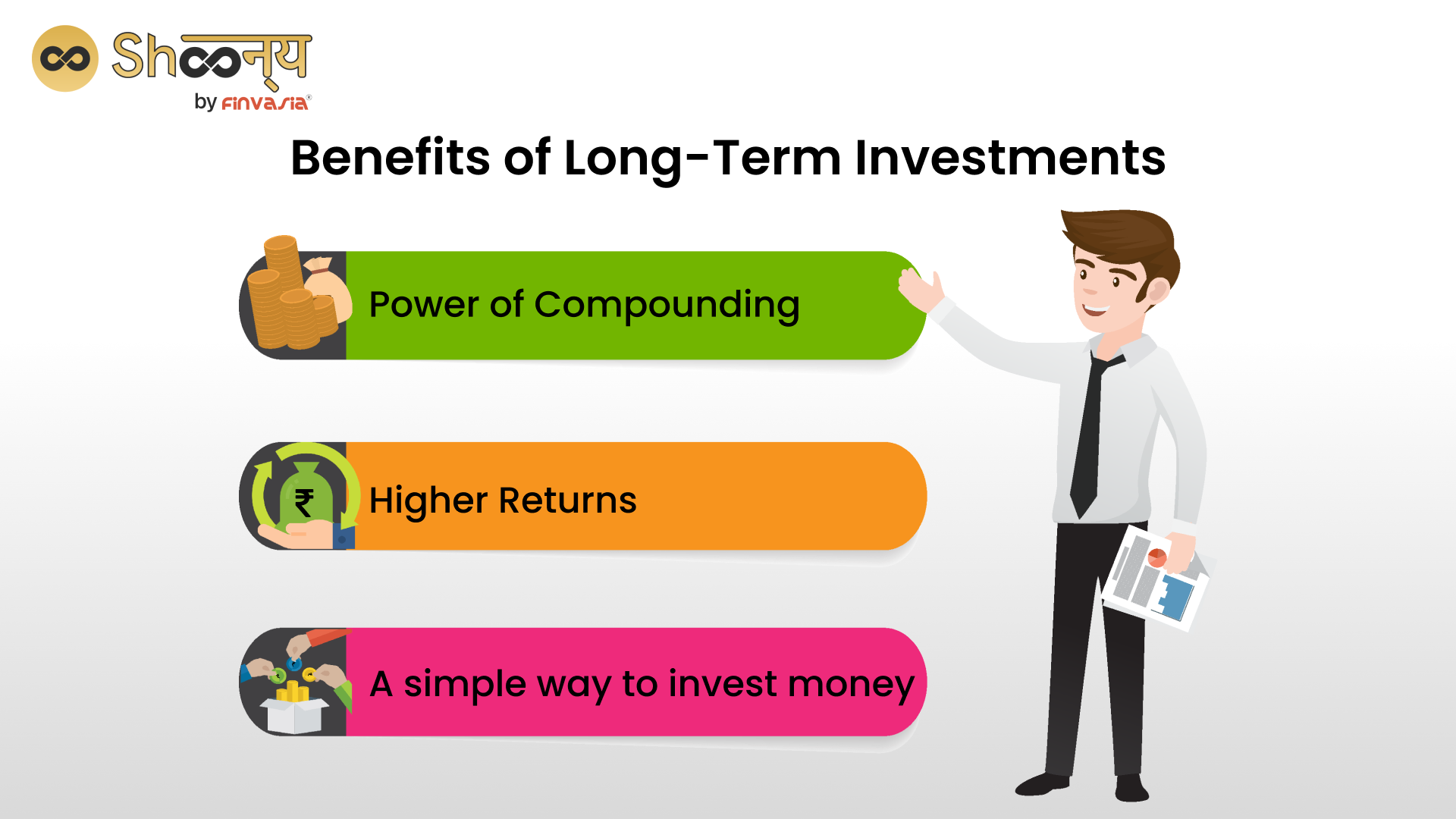 What about you? Still confused?
Let us take a look at the benefits of long-term investing that will certainly help you decide the best for yourself!
There are multiple benefits to long-term investments:
Power of Compounding– Over a period of time, the interest earned on your investment plans can generate additional returns, which help you to grow your portfolio exponentially. This gives you the power of re-investing your returns further.
Higher Returns: While short-term investments provide quick profits, long-term investments are the best way to invest money if you plan to reap better returns that smoothen by riding over the volatile market fluctuations.
A simple way to invest money: Long-term investing is an easy task to do. All you have to do is research ways to make smart investments, choose an online trading platform, and there you are, set to choose the best investment plan.
Still, searching for a stock broker whose commission doesn't cause a downward trend in your investment returns?
Difference Between Long-Term and Short-Term Investments
Here is a quick table to help you precisely understand the difference between the two main types of money investment options.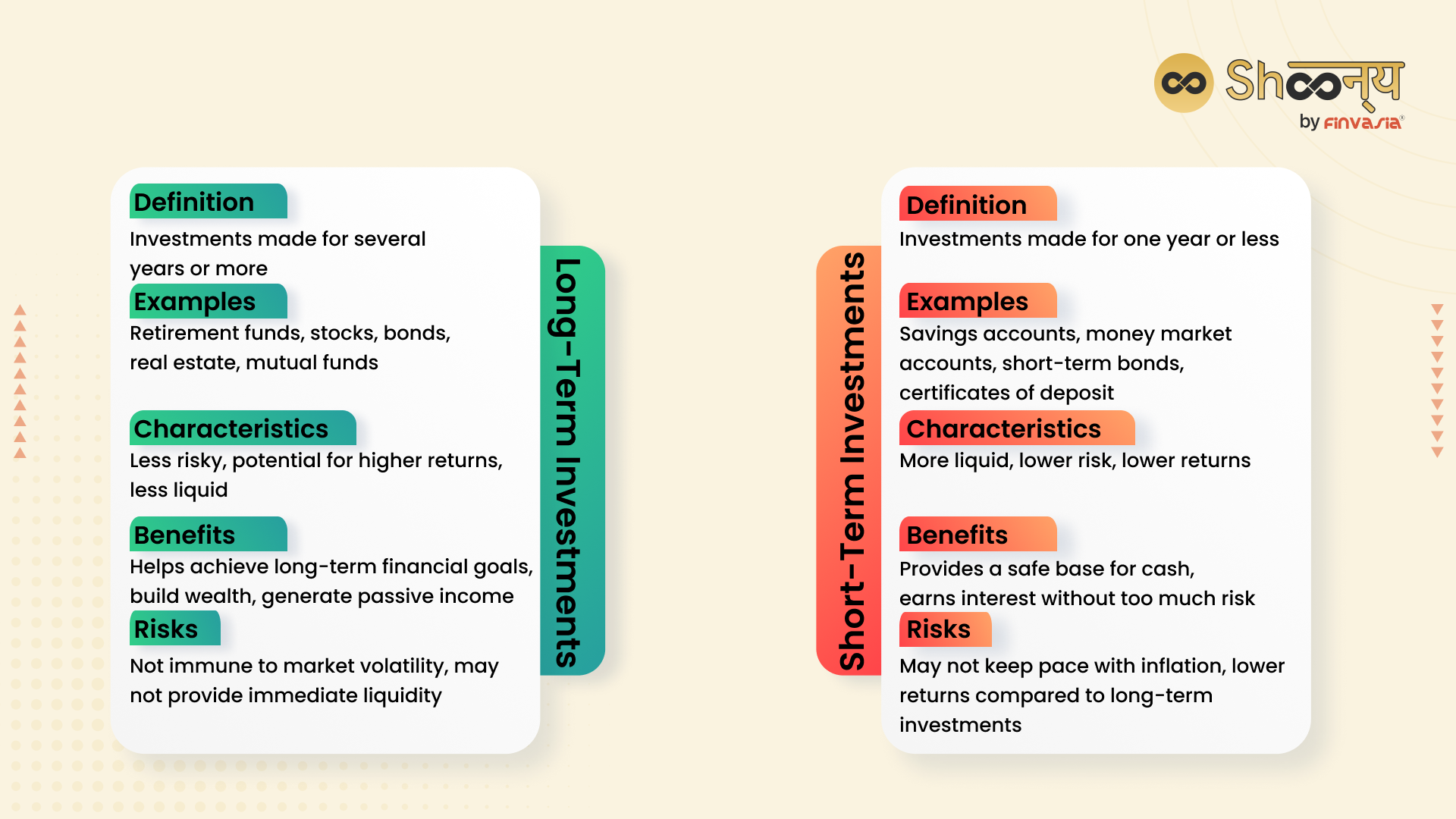 Types of Long-Term Investments Available in India
In order to make sure that you don't miss out on various long-term investments, we have collaborated on a list of the best investment options in India to help you make wise financial decisions. Some of the best ways to invest money long-term are stocks, mutual funds, government-backed bonds, and even gold ETFs. It usually takes 5-10 years to yield good returns on these investments.
Best Long term investment options to look for in 2023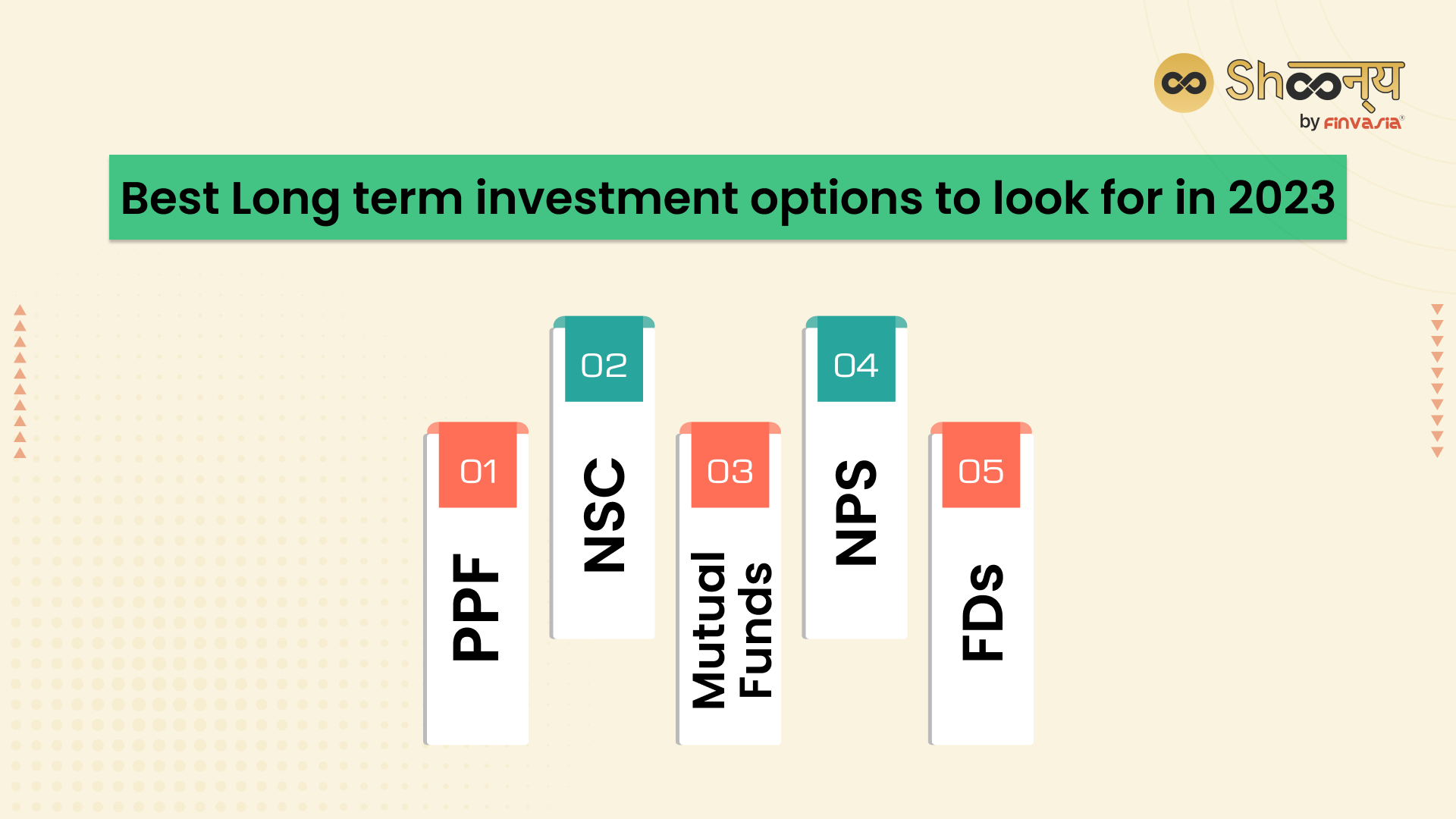 Public Provident Fund (PPF):
The Public Provident Fund (PPF) is a long-term investment option that the Indian government backs. It is one of the best and safe investment options in India.
Features:
PPF account requires a minimum investment of INR 500₹ and a maximum investment of 1.5 lahks per annum.
PPF is one of the best investment plans in India as the government backs it but offers a low-interest rate of around 6-8%. The current rate is 7.10% p.a.
It has a lock-in period of 15 years. However, you can withdraw partially before the account matures (after the 6th financial year from the account opening) but only under certain circumstances.
Public Provident Fund is a tax-free investment option; it doesn't attract any tax on your investment as well as return on long-term investment which makes it an attractive way to save investments from fulfilling long-term financial goals.
CTA- Before investing, check your investment return on Shoonya's free PPF return calculator. (LINK TO PPF return calculator)
2. Post Office Savings Scheme
You must have heard or seen your mother keeping green coloured paper telling you about saving money in post office schemes. These long-term investment schemes offer a safe investment option and returns ranging from 6% to 7%.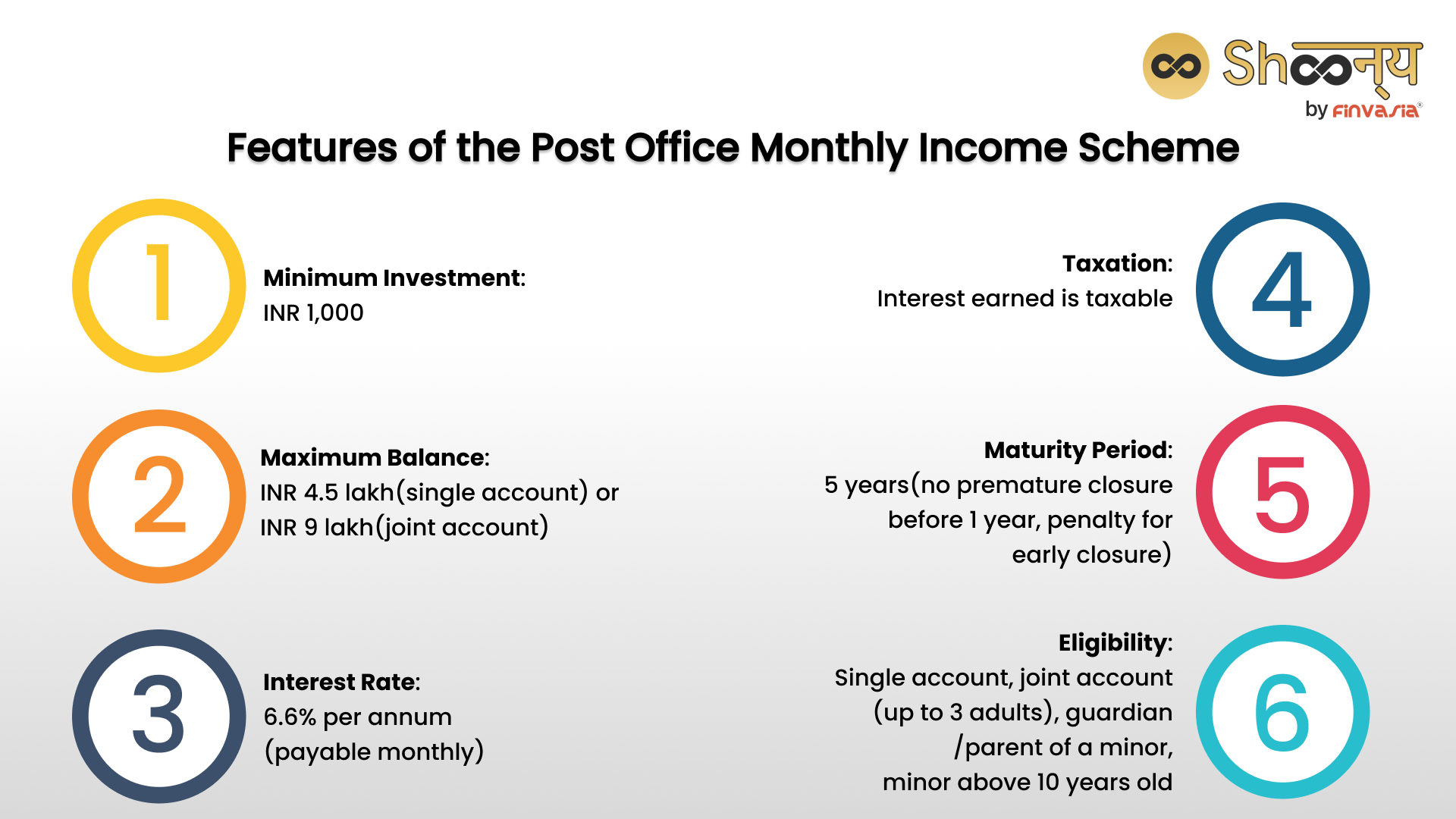 The Post Office Monthly Income Scheme is a popular investment option for individuals in India, especially those who earn passive income and want to generate returns. The Indian postal service offers this scheme, and is available in several account types, including single accounts, joint accounts, and accounts under the name of minors above 10 years of age.
Long-term investment seekers can avail of multiple schemes with varied durations.
3. National Savings Certificate (NSC):
National Savings Certificates (NSCs) are fixed-income investment schemes available at any post office branch. An initiative by the Government of India, NSC offers a guaranteed interest. However, like most fixed-income schemes, they cannot deliver inflation-beating returns like tax-saving mutual funds.
Features:
They offer a return on investment of around 7.5 to 8% per annum, higher than PPF.
The minimum investment amount is Rs₹ 1000, and the lock-in period is 5 years.
Anyone between 18 years to 60 years can make an investment in it.
4. Mutual Funds:
Are you a risk taker? If yes, mutual funds investments are an attractive long-term investment option for you.
Mutual funds are divided into three main categories:
| | | | |
| --- | --- | --- | --- |
| Fund Type | Main Investment | Risk Level | Expected Returns |
| Equity Funds | Stocks or shares of companies | High | Potentially high |
| Debt Funds | Fixed-income securities like bonds, government securities, and corporate debt instruments | Low | Comparatively lower |
| Hybrid Funds | Combination of equity and debt funds | Balanced | Offers benefits of both investment types |
4. Fixed Deposits (FDs)
The most common and well-known safe long-term investment option among Indians is FD. They are offered by banks, financial institutions, and post offices, with varied investment returns.
Features:
Low-risk investment option.
A common choice for long-term investors who don't want to spend time researching the stock market and choosing other assets avenues.
However, the return on fixed deposit investments is subject to TDS. Check out our FD calculator to quickly compare among various FD options that you may have in hand.
5. Government Bonds
The Indian government has made it easier for individual investors to purchase government bonds, offering an opportunity for domestic participation in the sovereign bond market. Both state and central government bonds are available, and they can be purchased through an online trading platform.
The interest rate on fixed-rate bonds is determined at the time of purchase and paid out every six months until maturity.
The maturity period can be a year or more, and the bonds carry a low to nil risk level.
Income generated by interest and capital gains are subject to taxation.
Factors to keep in Mind while making Long-Term Investments
Making the investments work for yourself is never an easy job. Whether a beginner or an expert trader, investment decisions are challenging for both. One of the most valuable factors in making a good long-term investment is portfolio diversification.
Key Points
Make a personal financial plan and set financial goals.
Understand your comfort zone in taking on investment risks.
Stick to one plan and avoid making frequent changes in your portfolio.
Consider a mix of investments to reduce risk and increase potential returns.
Be cautious when investing heavily in employer stock or individual stocks.
Keep a long-term investment horizon in mind.
Avoid making rapid investment decisions during volatile market conditions.
Seek advice from financial professionals before making investment decisions.
Wrapping Up
In conclusion, long-term investments are not only a safe and reliable option but also a strategic approach to building wealth and achieving your financial goals. Remember to stay disciplined, rebalance your portfolio, know your risk limit, and seek professional advice when needed. Whether it's investing in stocks, bonds, mutual funds, or government-backed schemes like PPF and NSC, choose the investment options that align with your goals and risk tolerance.
With Shoonya, India's trusted zero-commission trading platform, you can easily embark on your long-term investment journey.
Start investing today to secure your financial future.
FAQs
Why should I consider long-term investments?
Long-term investments are the best way to build wealth over time by benefitting compounding returns. The best way to invest money is to do it for the long term, as long-term investments are considered to be one of the best investment options to ride away market volatility.
Is it safe to invest long-term?
If you make money investments after proper research and focus on diversifying your portfolio regularly, long-term investment is indeed a safe and good option in India. 
However, all investments in the stock market carry some degree of risk; thus, it is important you take the help of a qualified financial advisor before making any long-term investment decisions.
Should I invest in a single long-term asset or diversify my investments?
Diversification is the best way to reduce risk and earn the best return on your investments. You can diversify among various investment options valuable in India, such as bonds and government schemes such as PPF, NPS, etc. 
Should I seek professional advice for long-term investing?
Irrespective of whether you are a beginner or an experienced trader, it is a must to take professional advice for long-term investing. An experienced financial advisor can help you construct an effective long-term investment plan that aligns well with your long-term goals and risk-taking ability.
How long should I hold my long-term investments?
In general, long-term investments should be held for at least five years to take the benefit of compounding returns and reduce the impact of short-term market fluctuations.
Can I withdraw my money from long-term investments if I need it urgently?
While long-term investments are meant for an extended period, you can withdraw your money if you need it urgently. However, early withdrawals can result in penalties or fees, and you may miss out on potential returns if you withdraw your investment too early.

Disclaimer: This blog post is for informational purposes only and does not constitute financial advice. Trading involves risks, and past performance is not indicative of future results. Always do your own research and consult with a qualified financial advisor before making any investment decisions.