Are you ready to redeem your mutual funds but unsure about the process? Making the right choices is essential for your financial journey. In this guide, we'll walk you through the steps of mutual fund redemption in India, ensuring you're well-informed to make the best decision aligned with your goals.
Understanding Mutual Fund Redemption
Mutual fund redemption is the process of withdrawing units from a fund to receive your investment returns. It's a crucial decision that requires research and consideration. Avoid hasty decisions based on market sentiment or perceived underperformance. Keep in mind that even uncertain markets hold potential opportunities.
Steps to Redeem Your Mutual Fund Units
Redeeming mutual fund units is straightforward, and you can choose between online and offline methods. It's important to make informed choices to maximize returns. Mutual fund unit prices are fixed once a day, so timing is crucial. Request a redemption within your fund house's designated time frame or before the financial markets close.
Offline Mutual Fund Redemption:
Obtain a Redemption Request form from your fund house.
Fill in details such as the unit holder's name, scheme name, folio number, units to be redeemed, and more.
Sign and submit the form to the Registrar or Asset Management Company (AMC) office or authorized fund house points.
Redeemed funds will be transferred to your registered bank account.
Online Mutual Fund Redemption:
Log in to your fund house's official website or third-party mutual fund portal.
Choose online transactions and log in using your folio number or Permanent Account Number (PAN).
Select the scheme and number of units to redeem.
Confirm the transaction.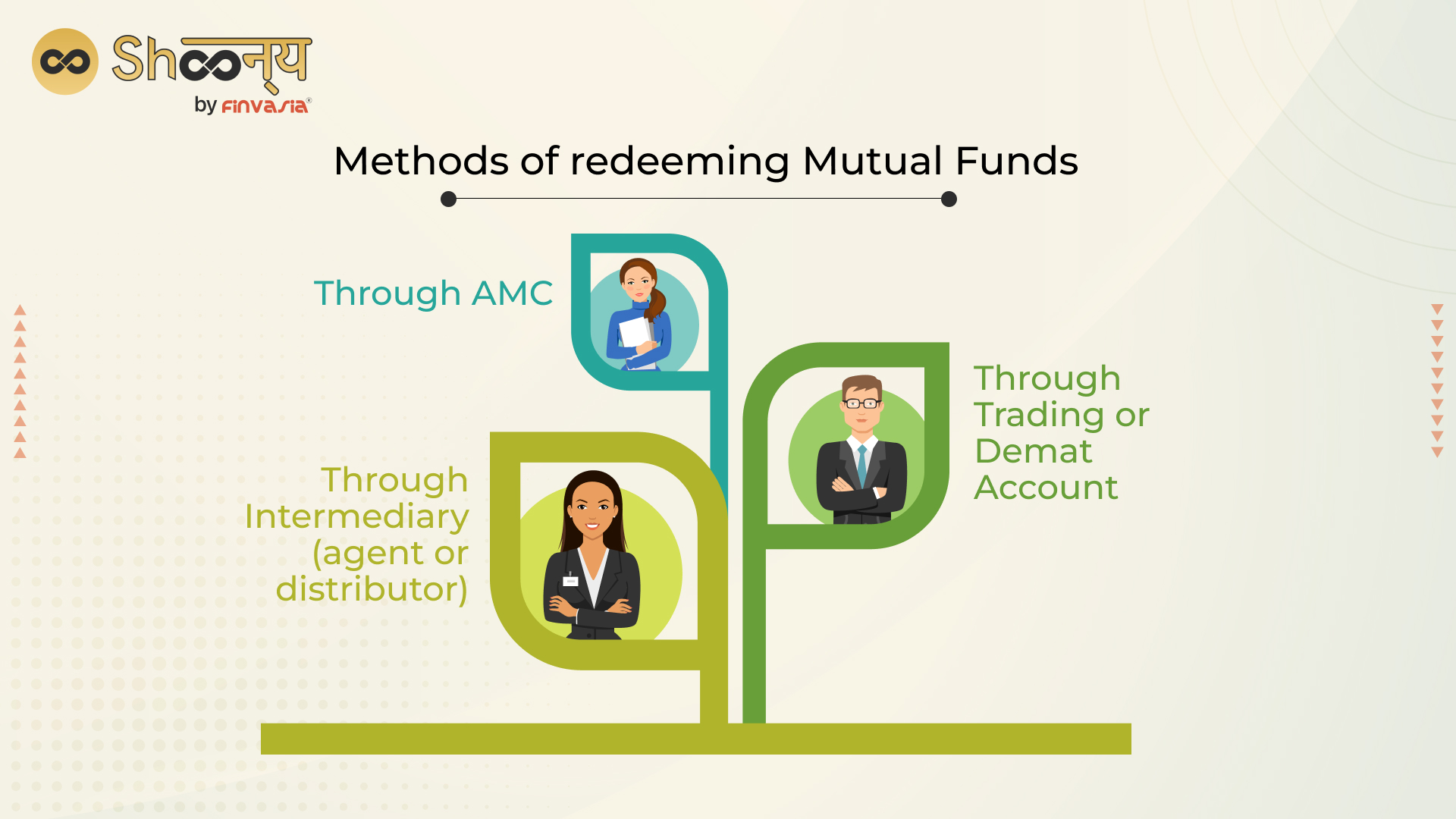 Redemption Proceeds and Timing
You can expect to receive your redeemed funds within 1 to 5 working days. Debt and liquid funds yield returns within 1 to 2 days, while equity mutual funds take 4 to 5 days.
Calculation of Redemption Amount
To estimate your redemption amount, multiply the units held by the Net Asset Value (NAV) of the redemption day. Factors like exit load, Securities Transaction Tax (STT), and applicable NAV influence the redemption amount.
Exit Loads and Charges
Be aware of exit loads and charges. If you redeem within 1 year of investment, an exit load of around 1% may apply. Exit loads are common for equity funds. Ultra-short-term and liquid funds typically have no exit loads.
In Conclusion: Make Informed Choices
When it comes to mutual fund redemption, making informed decisions aligns with your financial goals. Understand the redemption process, timings, charges, and factors influencing the redemption amount. Seek expert advice and consider your investment horizon before initiating the redemption process.
Take control of your financial journey and make redemption decisions that support your long-term financial aspirations.
FAQs on Mutual Fund Redemption:
Can I redeem my mutual fund units during market hours?
Mutual fund unit prices are determined at the end of each business day. Request redemption within the designated time frame or before market closure.
How do I receive the redemption proceeds?
The funds will be transferred to your registered bank account. Ensure your account details are updated and accurate.
Are there charges for redeeming mutual funds?
Exit loads and taxes may apply, depending on the duration of your investment. Inquire about charges before redeeming.
Can I redeem funds with a lock-in period?
Open-ended funds can be redeemed at any time. Some schemes, like Equity Linked Saving Schemes (ELSS), have a lock-in period.
Should I consult my fund manager before redeeming?
Yes, seeking advice from your fund manager or financial advisor is recommended to ensure a well-informed decision.
______________________________________________________________________________________
Disclaimer: Investments in the securities market are subject to market risks; read all the related documents carefully before investing.