IPO is a long process. The role of a lead manager is very crucial in an IPO. Let us look at the importance of a lead manager and their functions.
Who is a lead manager?
One of the most significant responsibilities of the lead manager in an IPO is in a public issue. In other words, the success or failure of an IPO depends on a lead manager. Therefore, they're also known as book builders or a merchant banker.
Functions of a Lead Manager
Let's look at the functions of a lead manager in detail.
Structuring the new issue
Lead managers prepare the new issue that the company issues for the IPO. Factors like the company's capital requirement and the investors' expectations affect this structuring process.
Drafting of the prospectus
The lead managers also create the prospectus that is delivered to SEBI. They try to make the prospectus as attractive as possible to attract more investors. Rules and regulations of SEBI, along with company laws, are also followed while preparing the prospectus.
Preparing underwriting agreements
Lead managers prepare the underwriting agreements with the financial institution, brokers and investment banks. This agreement is done between the company and the investment bank, where the bank agrees to work for the company's IPO.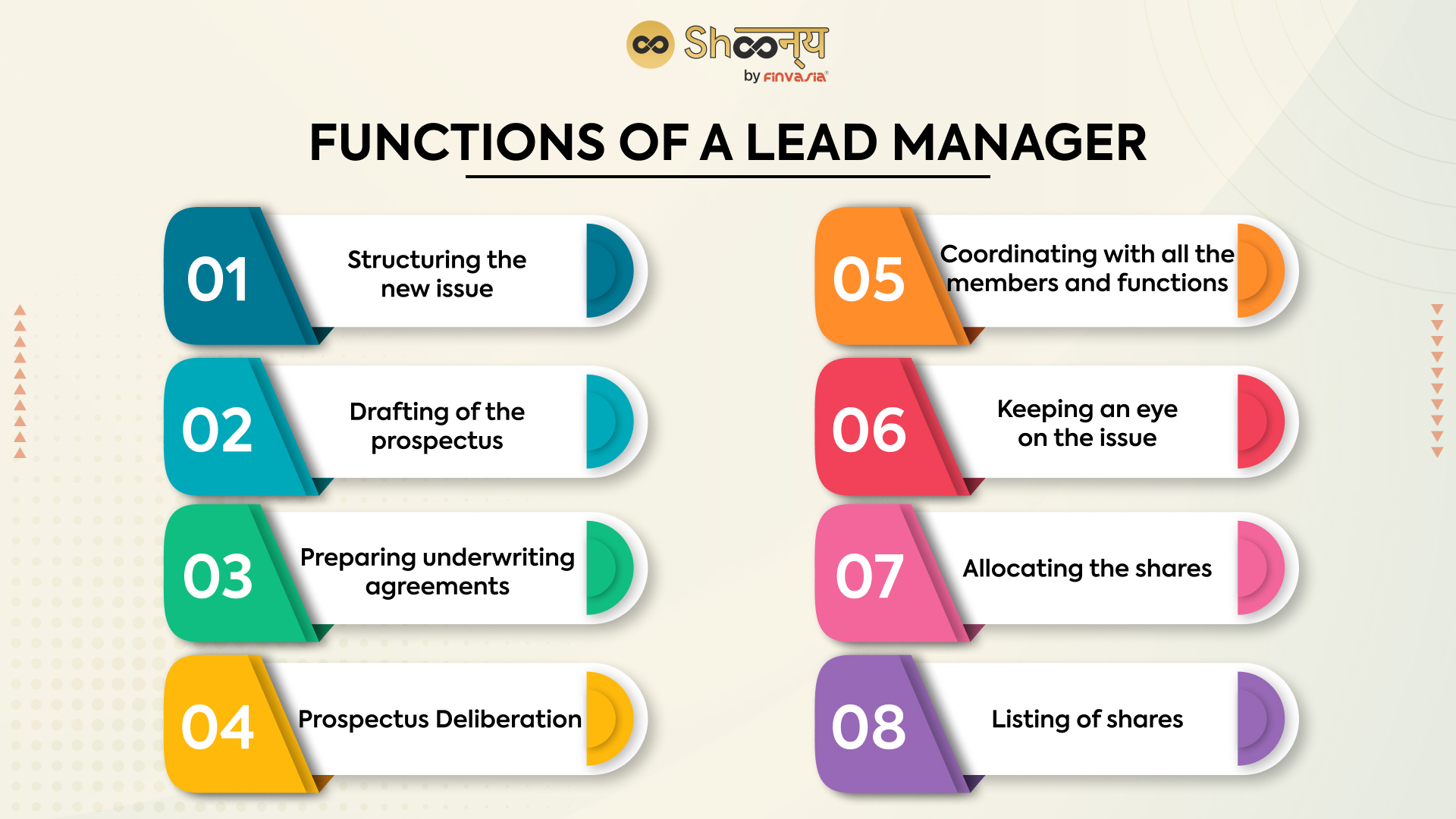 Prospectus Deliberation
After preparing the prospectus, the lead managers discuss it with all the authorities and experts involved in the IPO. Finally, they send the final prospectus after making the last changes.
Coordinating with all the members and functions
A lead manager is like a junction. They coordinate all the major tasks among everyone. They also arrange meetings for various investors, brokers, etc., with the company.
Keeping an eye on the issue
A lead manager has to be vigilant. So, they need to pay attention to the issue from its day one to the closing day.
Allocating the shares
Once the IPO closes, the lead manager helps the company allot the shares. First, they go through all the applications. Lead managers allot shares to applicants based on the company's priorities.
Listing of Shares
A lead manager helps the company list its shares in the IPO stock market after the IPO. Then, once the IPO is over, either BSE or NSE lists the company under them. Also, they help the company by sending letters and documents to the stock exchange.
Conclusion
A lead manager is the backbone of an IPO, as they put in all the effort to make an IPO successful. Thus, choosing a good lead manager is crucial for a company during its IPO.
In other words, it is the lead manager who helps the company to conduct its IPO smoothly. So if you are interested in IPOs and want to invest in them, Shoonya is your destination.
Shoonya is a zero-commission trading platform that provides various trading services, from IPO to equity to mutual funds. We charge no brokerage, and our advanced comparability tools help you make the right choices.