Residents of India, HUFS, eligible NRIs, businesses, scientific institutes, corporate societies, organizations, and trusts are all included in the NII category. So, let's have in-detail knowledge about NII, how to apply IPO in the HNI category, and what its sub-categories are.
What is NII?
Non-institutional investors or non-SEBI investors can apply for shares without registering with SEBI. High-net-worth individuals (HNIs) have a single investment totaling Rs. 2 lahks. A business that wishes to subscribe for more than 2 lakhs should consult with NIIs. Irrespective of how well the IPO performs, stock market investors still receive their shares. 
There are two sub-categories of NII.
Small NII Category (sNII)
NII investors who bid for shares within Rs 2 lakh and Rs 10 lakh fall under the Small NII category. One-third of the NII category shares go to the Small NII sub-category.
Big NII Category (bNII)
NII investors who place bids on shares valued at more than Rs 10 lakhs fall under the Big NII category. The Big NII subcategory receives two-thirds of the NII category shares. The Big HNI subcategory is another name for it (bHNI).
Advantages of NII
The amount of an application has no maximum limit. Therefore, an individual investor may bid any amount in this category, where the maximum bid is Rs 100,000 for retail sales.
NIIs are immune from registering with SEBI.
NIIs have the option to leave an IPO prior to the day of allocation.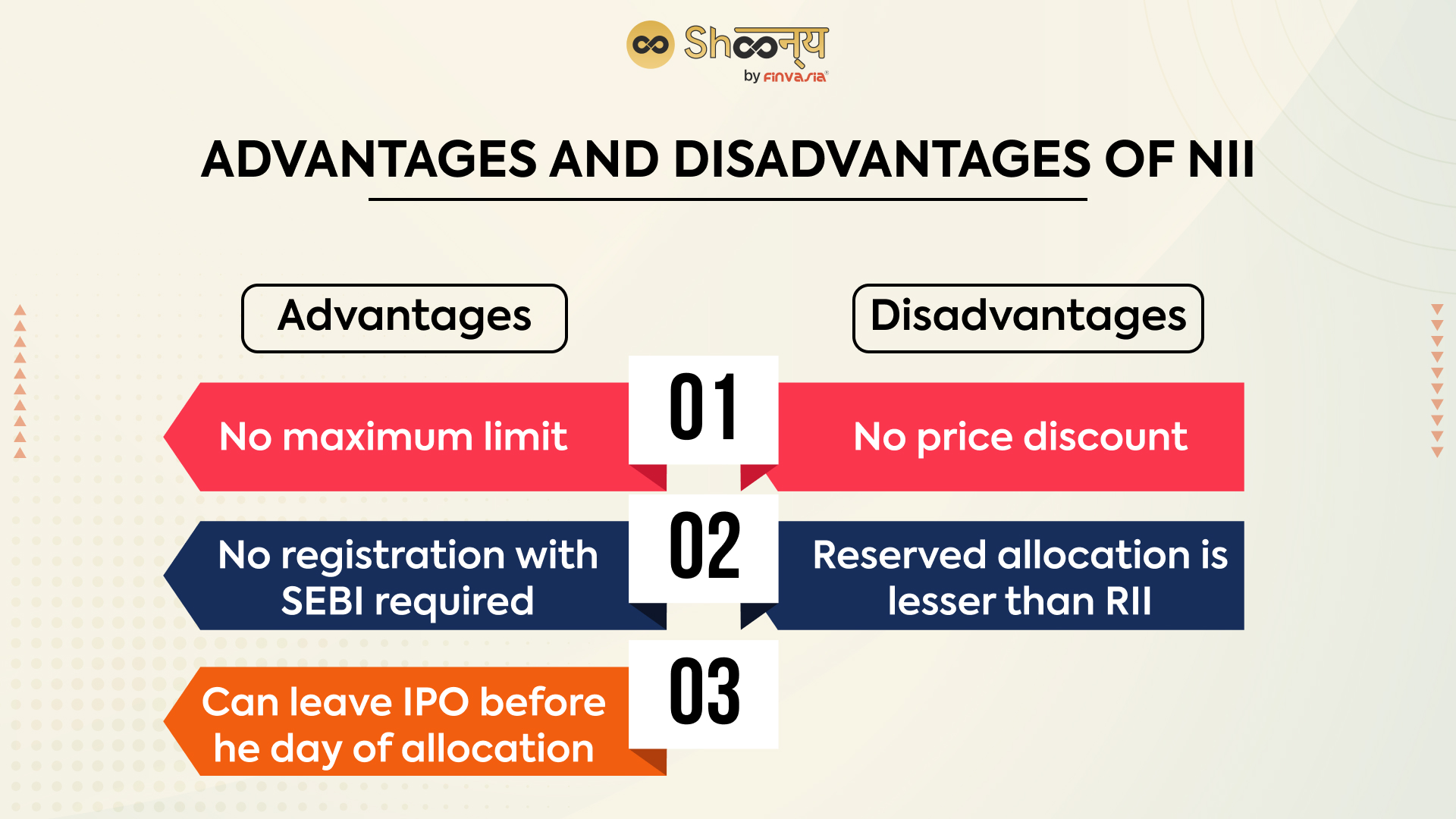 Disadvantages of NII
NIIs are not qualified for the price discount granted to retail investors.
Compared to RII (35%), the reserved allocation is lower (15%). By doing this, the likelihood of allotment in cases of over-subscription is reduced.
Can a retail investor apply more than Rs 1 lakhs in an NII category?
Yes, a retail investor who applies in the "Non-Institutional Investors" category can bid more than Rs 1 lakh in an IPO. This is because the maximum bid amount in the "Non-Institutional Investors" category has no upper limit.
Conclusion
From learning the importance of an NII investor to understanding whether you can bid for it, you have become one step closer to comprehending the important bits and pieces of the IPO in the capital market. Are you looking to buy an IPO with proper analysis? The Shoonya app with zero brokerage is your answer, which has advanced tools and options to help you look at company details and also modify/cancel your IPO order before buying.