With September just around the corner, a wave of financial adjustments is set to ripple across the landscape. From the withdrawal of currency notes to shifts in credit card benefits, the upcoming month promises notable changes that deserve your attention. Let's delve into the specifics of these impending changes that could potentially impact your financial standing.
Key Highlights Of The Major Financial Changes in September
Exchange or deposit Rs 2,000 notes deadline
SEBI's Execution-only platforms (EOPs) registration
Nomination submission for MF investors and equity holders
Axis Bank's Magnus and Reserve credit card changes
Last chance for special high-rate FD schemes
PAN and Aadhaar submission for small savings schemes
September 15 deadline for the second installment of advance tax
Free Aadhaar card update extended till September 14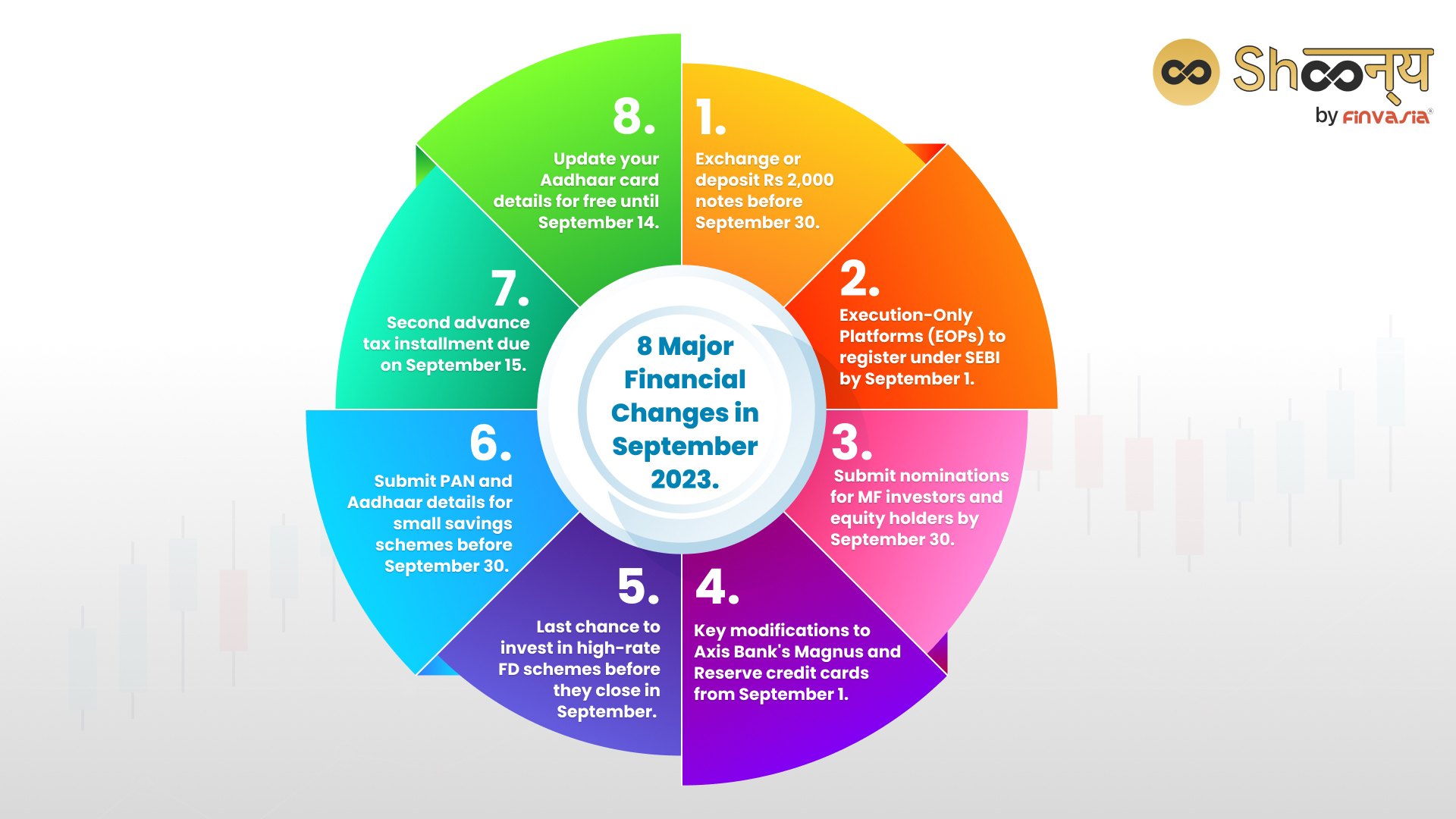 Currency Note Exchange Deadline: A Prudent Move by RBI
The Reserve Bank of India (RBI) recently made a pivotal announcement regarding the gradual withdrawal of Rs 2,000 notes from circulation. Individuals now have a window until September 30, 2023, to either exchange or deposit these notes in their respective bank accounts. Prompt action is advised to ensure uninterrupted access to your funds.
SEBI's Directive for Execution-Only Platforms (EOPs)
The month of June saw the introduction of a significant regulatory change by the Securities and Exchange Board of India (SEBI). The directive mandates the registration of Execution-Only Platforms (EOPs), a development that categorizes EOPs into two distinct segments. From September 1 onwards, the ramifications of these alterations are expected to take effect, potentially reshaping the landscape of direct mutual fund investments.
Nomination Submission for MF Investors and Equity Holders
A pivotal deadline is on the horizon for mutual fund (MF) investors and equity holders. By September 30, existing investors are required to submit nominee details or opt-out declarations. Ensuring compliance is imperative to facilitate uninterrupted transactions starting from October 1, 2023.
Axis Bank's Credit Card Evolution: A New Chapter
As September arrives, Axis Bank is poised to implement significant changes to its Magnus and Reserve credit card offerings. These changes encompass adjustments to annual fees, revised spend thresholds, and modifications to reward point structures. This transition marks a notable shift in the credit card landscape, prompting attention from all cardholders.
Seizing the Opportunity: Final Call for High-Rate FD Schemes
In response to the surge in repo rates since May 2022, numerous banks introduced high-rate FD schemes targeting regular and senior citizens. September may mark the conclusion of these attractive schemes. Don't miss out on the chance to capitalize on these potentially lucrative investment avenues before the window closes.
PAN and Aadhaar Submission for Small Savings Schemes
May witnessed India Post instituting new regulations necessitating the submission of PAN and Aadhaar details for existing depositors. The submission deadline for these essential documents is September 30, 2023. Non-compliance may result in operational limitations being placed on your account.
Second Advance Tax Instalment: An Essential Milestone
While salaried individuals might assume the 'advance tax' provision doesn't concern them, this is not the case. Advance tax liability extends to those with various income streams, including salary, interest, rental income, and capital gains. Section 208 of the Income Tax Act 1961 mandates the payment of advance tax for individuals with estimated tax liabilities of Rs 10,000 or more, factoring in tax deductions and collections at source (TDS and TCS). Taxpayers are required to fulfill their annual estimated advance tax liability through four installments. The second installment, due on or before September 15, entails a payment of 45 percent of the total advance tax.
Upgrading Your Aadhaar Card Details: The Countdown Begins
In June, the Unique Identification Authority of India (UIDAI) extended the deadline for free Aadhaar card updates to September 14, 2023. It's essential to note that after this date, updates made via the myAadhaar portal will incur a fee of Rs 50, even as physical Aadhaar centers continue to offer these services free of charge.
Conclusion
As the curtain rises on September's financial transformations, staying informed equips you with the knowledge needed to navigate the evolving landscape with confidence. Prepare yourself for the impending changes to ensure your financial well-being remains intact.
Source- moneycontrol.com
______________________________________________________________________________________
Disclaimer: Investments in the securities market are subject to market risks; read all the related documents carefully before investing.