Do you want to learn about stock trading in India but aren't sure when is the best time to start? Don't worry; understanding Indian stock market timings is a critical step that can considerably affect your success in financial markets. Understanding these times can be crucial to developing a successful trading strategy. Let's explore.
The Stock Market Timings in India
India's stock market timings follow a consistent pattern across the country, allowing you to trade from any corner of the nation during market hours. The trading day typically spans from 9:15 AM to 3:30 PM (IST – Indian Standard Time) on weekdays (Monday through Friday). But let's break down these timings further to gain a deeper understanding of their importance.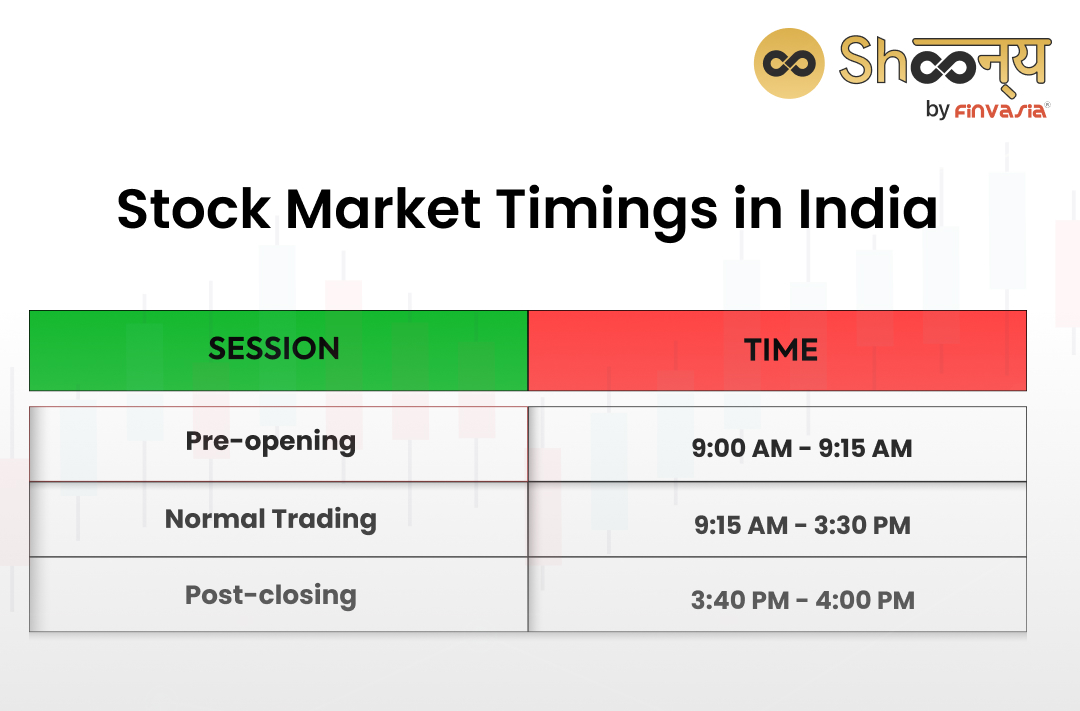 Pre-opening Timing
Before the regular trading session kicks off, there's a pre-opening session that begins at 9:00 AM and lasts for 15 minutes. This period provides a window for initial preparations before the main trading action starts.
From: 09:00 AM – 09:08 AM
During this period, the stock market accepts orders for all types of trades. What's interesting is that the first orders received during this time take priority, allowing investors to adjust their requests until the official pre-opening session begins.
From: 09:08 AM – 09:12 AM
This phase establishes daily security prices through a multilateral order-matching technique. It matches securities' demand and supply prices to determine the final prices for the regular market hours. However, an order can not placed between 9:08 a.m. and 9:12 a.m.
From: 09:12 AM – 09:15 AM
This bridges the gap between the pre-opening and regular trading. No new transaction orders can be placed during this time.
Market Opening Time: Normal Session
The primary trading session takes place from 9:15 AM to 3:30 PM. It employs a bilateral order-matching system where prices align with market demand and supply. The introduction of the multi-order method during the pre-opening session helps to control excessive price volatility, ensuring a smoother trading experience.
For Equity and F&O market:
9:15 am- 03:30 pm ( Monday – Friday)
For Currency Market
9:00 AM- 5:00 PM (Monday – Friday)
For Cross Currency
9:00 AM- 5.00 PM (Monday to Friday)
For the Commodity (MCX) market:
9:00 AM- 11:30 PM Monday to Friday (From March to Nov)
9:00 AM- 11:55 PM Monday to Friday (From Dec to Feb)
For Agri-Commodity (NCDEX) market:
10:00 AM – 5:00 PM (Monday – Friday)
Market Closing Time
Both the stock exchanges, i.e., NSE- National Stock Exchange and the BSE- Bombay Stock Exchange (BSE), follow the same trading hours – 9:15 AM to 3:30 PM – from weekdays, Monday to Friday. The closing session comes right after the regular trading hours, spanning from 3:40 p.m. to 4:00 p.m.
Post-closing Session
From: 03:30 PM – 03:40 PM
The post-closing session begins immediately after the regular trading hours and concludes at 3:30 PM. During the first part of this session, from 3:30 PM – 3:40 PM, various activities continue, including determining the closing price. This closing price significantly influences the starting price for the next trading day.
From: 03:40 PM – 04:00 PM
The second part of the post-closing session spans from 3:40 PM – 4:00 PM. While buying and selling activities have ceased, this period remains crucial for several behind-the-scenes functions that set the stage for the following trading day.
Aftermarket Orders
AMO Order Placement Segment Wise:
Equities – After 4:00 pm to 8:59 am the next day
FO – After 3:30 pm to 9:14 am the next day
Currencies – After 5:00 pm to 8:59 am the next day
Muhurat Trading
Muhurat Trading is a special time for trading stocks in India, usually on Diwali. The word 'Muhurat' means a lucky time. It's believed that during this one-hour period, the stars align favourably for good results. People think that if they trade during this time, they have a better chance of making money and having a prosperous year. It's a tradition for traders in India. In the past, it had more cultural and religious significance. But now, it's more of a symbolic act where people pray to Goddess Lakshmi and invest in strong companies for long-term profits.
On the auspicious occasion of a famous festival, Diwali, Muhurat Trading is conducted. This unique session allows traders to engage in a special trading hour, which is believed to signify good luck.
Muhurat Trading Timing Schedule 2023
This year, Muhurat Trading will take place on Sunday, November 12, 2023, and the timings will be:
| Sessions | Start Time | End Time |
| --- | --- | --- |
| | Equity | |
| Pre Open * | 6:00 PM | 6:08 PM |
| Normal Market | 6:15 PM | 7:15 PM |
| Closing Session | 7:25 PM | 7:35 PM |
| | Derivatives | |
| F&O, Currency, MCX, NCDEX | 6:15 PM | 7:15 PM |
How Can You Invest in the Stock Market?
Investing in the Indian stock market is an easy process.  You must search for a zero brokerage online trading platform. The next step is to understand your financial needs and then choose the segment in which you wish to invest. You can choose from stocks, mutual funds, currencies, commodities, and much more. The most important step before you start is to do proper research.
FAQs| Stock Market Timings in India
What are the stock market timings in NSE/BSE?
The Indian stock market operates from 9:15 AM to 3:30 PM (IST) during regular trading sessions, Monday to Friday.
Can I trade in the Pre-Market Opening Session?
Yes, you can trade in the pre-opening session that spans from 9:00 AM to 9:08 AM.
What is Muhurat trading?
Muhurat trading is a special session on Diwali, allowing traders to engage in a festive trading hour for good luck and prosperity.
Are commodity trading timings different?
Yes, commodity trading timings vary. The morning session in the Indian stock market occurs from 9:00 AM to 11:30 PM, whereas the evening session is from 5:00 PM to 11:30 PM, with exceptions on holidays.
How can I use timing to my advantage?
Understanding stock market timings helps you align your trading strategy, capitalise on price trends, and make well-timed investment decisions.
What risks come with Muhurat Trading?
The risks associated with Muhurat Trading mirror those of regular trading. It's essential to conduct your own research before making investments.
Is participating in Muhurat Trading compulsory?
No, participation in Muhurat Trading is entirely optional and depends on the choice of individual investors.
Are the trading regulations different during Muhurat Trading?
No, the trading rules and regulations for the Muhurat Trading are the same as those of regular trading.
Is Muhurat Trading different from regular trading?
Muhurat Trading isn't distinct from regular trading; its unique aspect lies in its occurrence on a special day, i.e., Diwali and within a shorter timeframe.
When does Muhurat Trading occur?
The timings for Muhurat Trading are typically announced by stock exchanges a few days before Diwali. This year's Muhurat Trading is scheduled for Sunday, November 12, 2023, with session timings as follows: Pre-Open (Equity) from 6:00 PM to 6:08 PM, Normal Market (Equity) from 6:15 PM to 7:15 PM, Closing Session (Equity) from 7:25 PM to 7:35 PM, and for Derivatives (F&O, Currency, MCX, NCDEX) from 6:15 PM to 7:15 PM.
______________________________________________________________________________________
Disclaimer: Investments in the securities market are subject to market risks; read all the related documents carefully before investing.