As per Union Budget 2023, the Indian economy has seen significant growth in recent years, moving from the 10th largest in the world to the 5th largest. This growth has been driven by various factors, including investment in key sectors such as agriculture, railways, and defense, as well as a focus on reducing fiscal deficits and supporting the growth of small and medium-sized enterprises (MSMEs).
HIGHLIGHTS OF THE BUDGET
Senior Citizen Savings Scheme: The maximum investment limit has been lifted from Rs.15 lakh to Rs.30 lakh, with an interest rate of 8% for the quarter ending 31st March 2023.
Ease of doing business in India: 39,000 compliances have been lowered, and 3,400 provisions have been decriminalised.
Green Hydrogen – Rs 19,700 crore has been allocated for the National Green Hydrogen Mission.
AI: "Make AI in India and Make AI work for India".
PVTG: Newly launched Pradhan Mantri PVTG (Primitive Vulnerable Tribal Group) over the next three years.
TDS for EPF: The TDS rate has been reduced to 20% from 30% on the taxable withdrawal of EPF.
PM Awaas Yojana: The outlay for PM Awaas Yojana was enhanced by 66%.
The PM Kaushal Vikas Yojana 4.0 will be launched to skill lakhs of youth, covering new-age courses.
Transportation and Housing: Development of 50 new airports, allocating 10,000 crores for urban development and 79,000 crores for housing initiatives. Railways 2.40 lakh crores.
MSMEs: Allocation of 22,138 crores for MSMEs.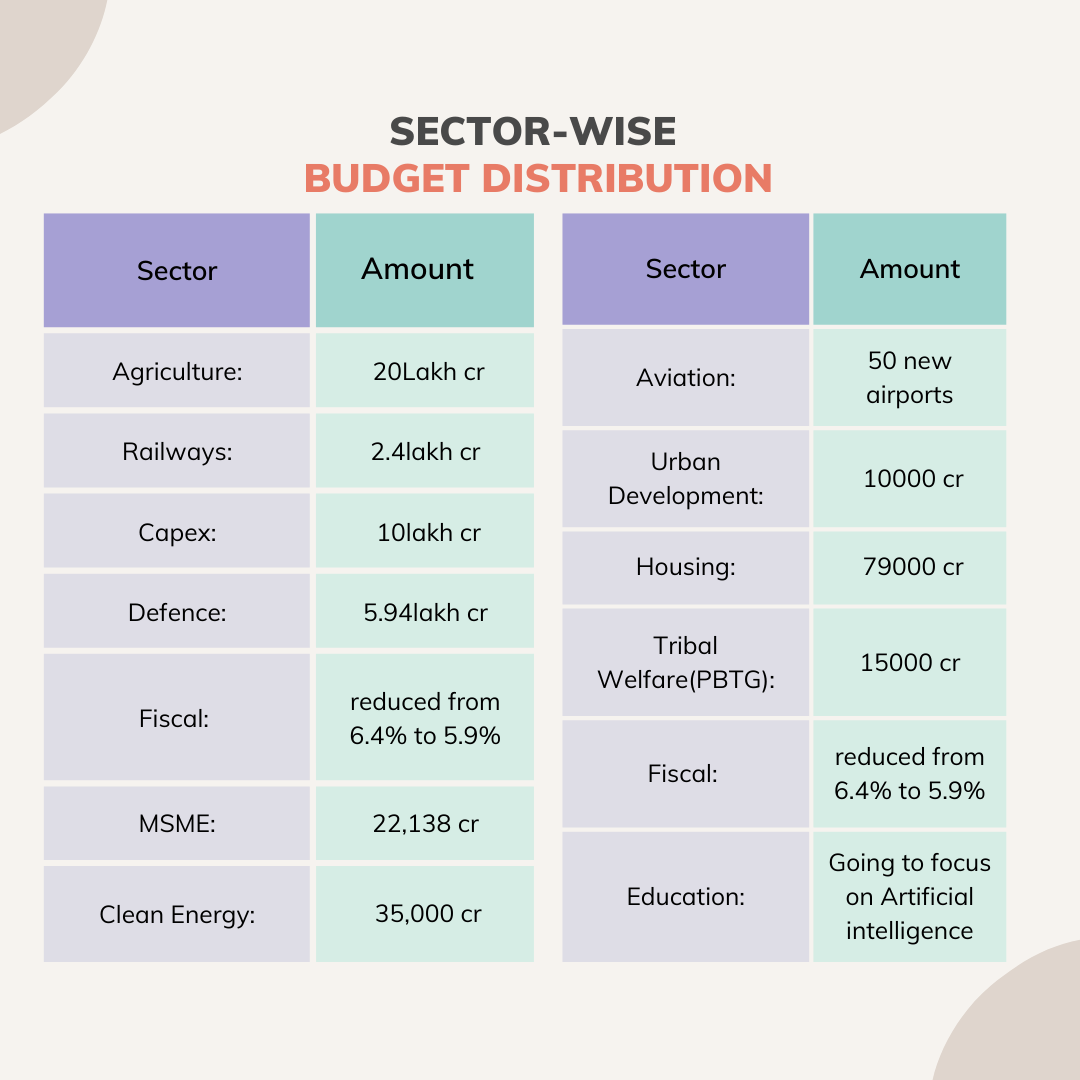 SEVEN PRIORITY SECTORS OF UNION BUDGET 2023-24
Inclusive Development: The Indian government aims to provide essential services and resources to all citizens, especially in remote and rural areas, through education, healthcare, and other basic services.
Reaching the Last Mile: The government prioritizes the development of remote and rural areas by investing in local economies, small enterprises, and infrastructure such as roads, transit, and telecommunications.
Infrastructure and Investment: The government invests in aviation, urban development, and housing to drive growth, with plans for 50 new airports, a 10,000 crore allocation for urban development, 79,000 crores for housing, and 2.40 lakh crore for railways.
Unleashing Potential: All citizens' potential, especially that of the younger generation, is being unlocked, and new possibilities are being created to help them flourish and prosper. To do this, funding is allocated to education and training initiatives for start-ups and small enterprises.
Green Growth: The government prioritises sustainable growth by investing in sustainable agriculture and renewable energy, with a 35,000 crore allocation for clean energy projects.
Youth Power: The government recognises the youth as a key driver of future growth and will support them through the National Apprenticeship Promotion Scheme, providing stipends to 47 lakh youth over the next three years through Direct Benefit Transfer.
Financial Sector: The government aims to strengthen the financial sector for economic stability and growth through investments in MSMEs with a 22,138 crore allocation and promoting the sector's growth through regulatory reforms and technology investment.
Focus on Educating Children in the Tribal Areas
PMPVTG: In the budget, there is a special mention of a provision of 15000 crores for PMPVTG- PM Primitive Vulnerable Tribal Group. In this, 38800 teachers and support staff in 748 schools will be hired to educate 3.5 lakh tribal students in the coming three years.
______________________________________________________________________________________
Disclaimer: Investments in the securities market are subject to market risks, read all the related documents carefully before investing.