Shoonya, India's most trusted zero-commission platform, is now the 1st trading platform to offer AI-powered Predictions & Signals for Individual stocks.
This web-based feature offers predictive analysis for up to 1500 Indian stocks, along with daily top stock picks based on extensive historical research. Exclusive to Shoonya customers, this groundbreaking AI feature gives you an unparalleled advantage in the Indian Stock Market. With just a click of a button, traders can make smart investment decisions, saving valuable time and effort in manual research.
This blog is an all-inclusive guide for Shoonya traders, providing insights to help you understand every aspect of India's first AI-powered stock market predictions, available exclusively to Shoonya customers.
What is IKF- 'I Know First'?
'I Know First' (IKF) is a leading fintech company that provides advanced AI-based algorithmic forecasting solutions for the capital markets. Founded by Dr Lipa Roitman, a scientist with over 20 years of experience in AI and machine learning, the 'I Know First's' predictive algorithm aims to help banks, investment houses, hedge funds, and now, retail investors with an advanced algorithmic support system.
Exclusive Partnership of Shoonya and 'I Know First' for Indian Traders
At Shoonya, we aim to bring advanced solutions to help our traders with unique and the best always. We have partnered exclusively with 'I Know First' to offer Shoonya traders a first-of-its-kind AI-powered trading feature. 'I Know First' advanced algorithmic forecasting solutions are trusted by the world's leading hedge funds, investment houses, banks, family offices, brokerage firms, and high-net-worth individuals, and it is now available to Shoonya's customers, allowing them to gain a competitive edge.
Exclusive Features of AI-powered Stock Market Predictions.
Here are the unique benefits of game-changing AI-based predictions & signals that will help you make smart trades daily and access the best stock market opportunities for the short, mid, and long term.
Daily Top Stock Picks:
Shoonya's AI-driven feature provides the carefully picked top 60 I Know First AI stock picks with algorithm analysis of up to 1500 stocks listed on Indian Exchanges. This feature is backed by extensive historical research to help you make your trades easily.
The 60 stock picks are further categorised into three laps- Large Cap, Mid Cap, and Small Cap- 20 stock picks for each cap.
Also, you can further check daily top 20 stock picks for each cap to predict your success with ten each for buy/sell in each category.
Colour-Coded Signals:
AI-advanced predictive technology provides colour-coded signals to help you easily interpret market movements and make buy and sell trade decisions in a single click.
Dark green (BUY) and red (SALE) indicate strong signals, while light green and red denote weaker signals.
Suppose a stock is labelled with a dark green signal. In that case, it is likely to perform well in the near future. On the other hand, if the signal is light green or light red, it may not be a promising investment opportunity.
3. Instant Heatmaps:
'I Know First', via its predictive algorithm, helps you generate instant heatmaps for stock market predictions across six different time ranges, including 3D,7D,14D,1M,3M & 1Y periods.
Heatmaps provide a quick visual representation of the stock market trends and patterns, making it easy for traders to analyse and interpret market data effectively.
4. Performance Predictions with AI-Driven Market Percentage:
This feature lets you access the predictive return analysis of up to 1500 Indian scrips divided into large, mid, and small caps with return percentages offered for each category.
Subscription Plans
Our subscription plans are designed to make powerful AI-driven stock market trading accessible to all Shoonya traders.
30-Day Free Trial
All the Shoonya traders can easily enjoy the power of AI-driven stock market forecasts at absolute zero cost for 30 days.
Start Your 30 Days Free Trial!
Basic Monthly Plan
After that, there is a monthly subscription plan of Rs. 999/-. As an introductory offer, Shoonya is offering the benefits for just Rs. 799/- for a limited period only (Introductory Offer)
How can you Use AI-powered Stock Prediction Features on Shoonya's Web Platform?
To use the latest predictive analysis feature on Shoonya's Platform, you need to follow these steps:
Log in to Shoonya's web portal with your credentials on the Shoonya beta platform (beta.shoonya.com). (Ref Fig 1)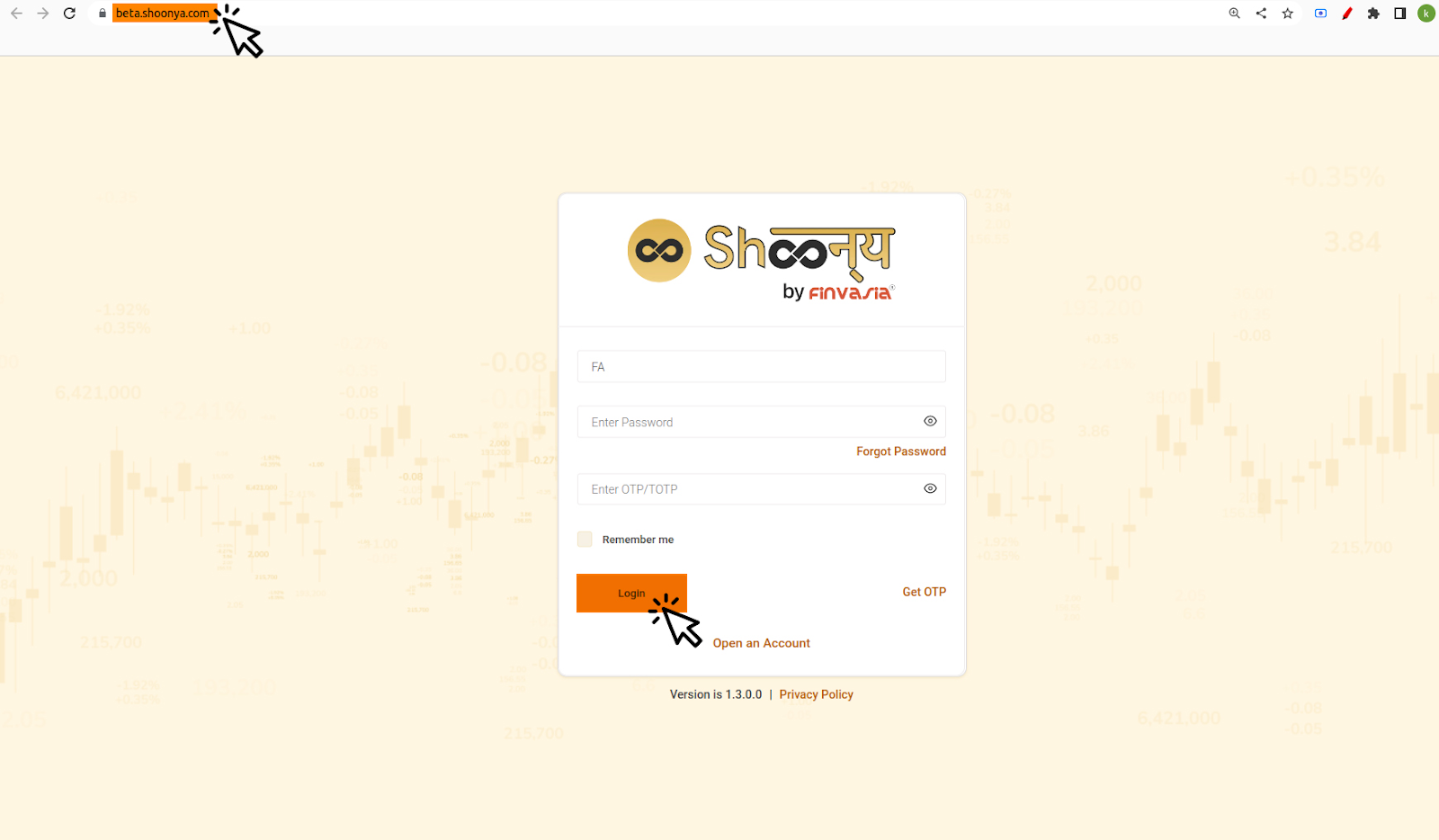 As you enter the dashboard page, click on IKF Tab from the top menu (Ref Fig 2).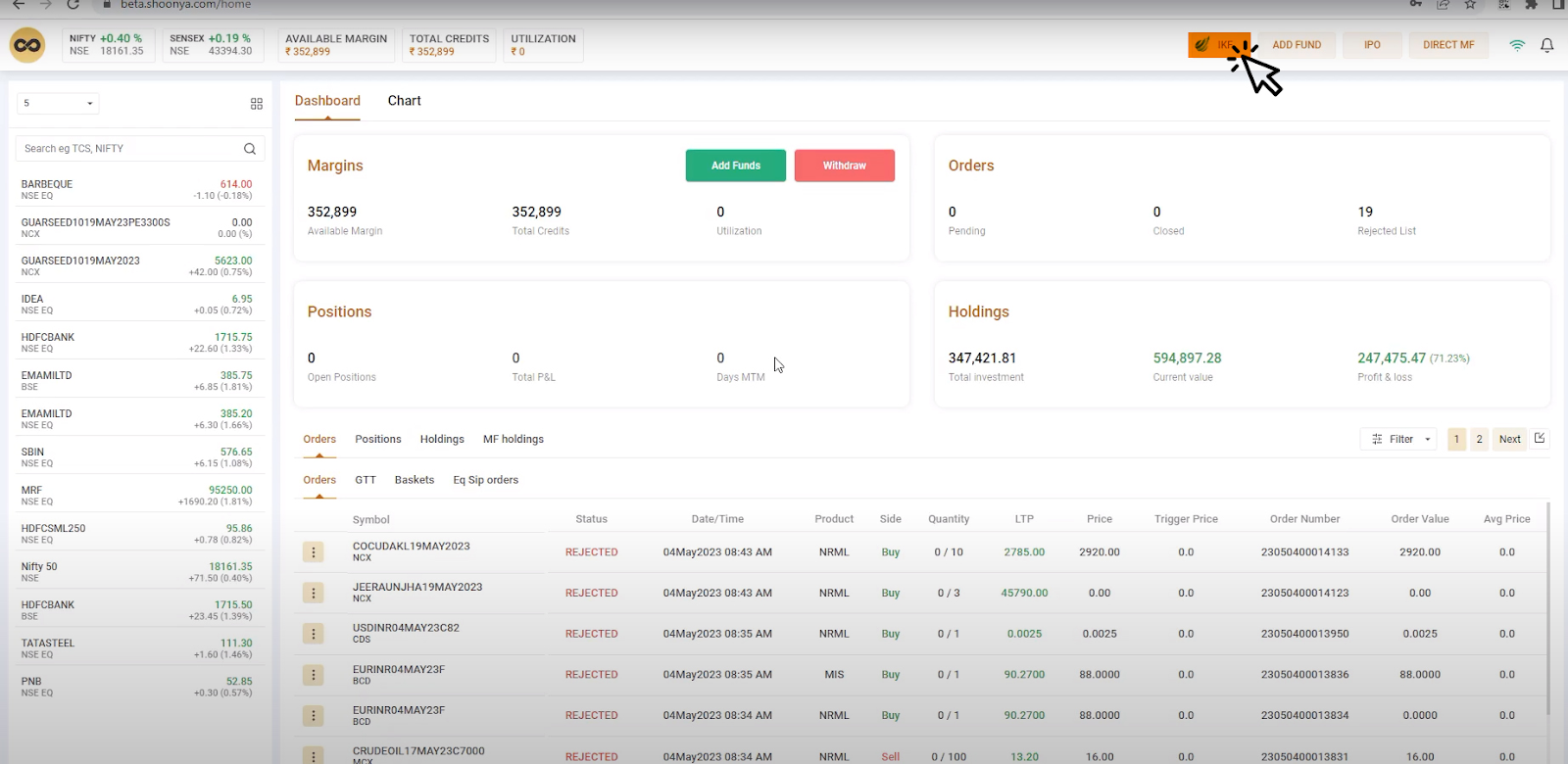 You will be directed to the 'I Know First' AI main screen. Click on 'Get Started' in the 'I Know First' AI main screen to start your free 30-day trial. (Ref Fig- 3).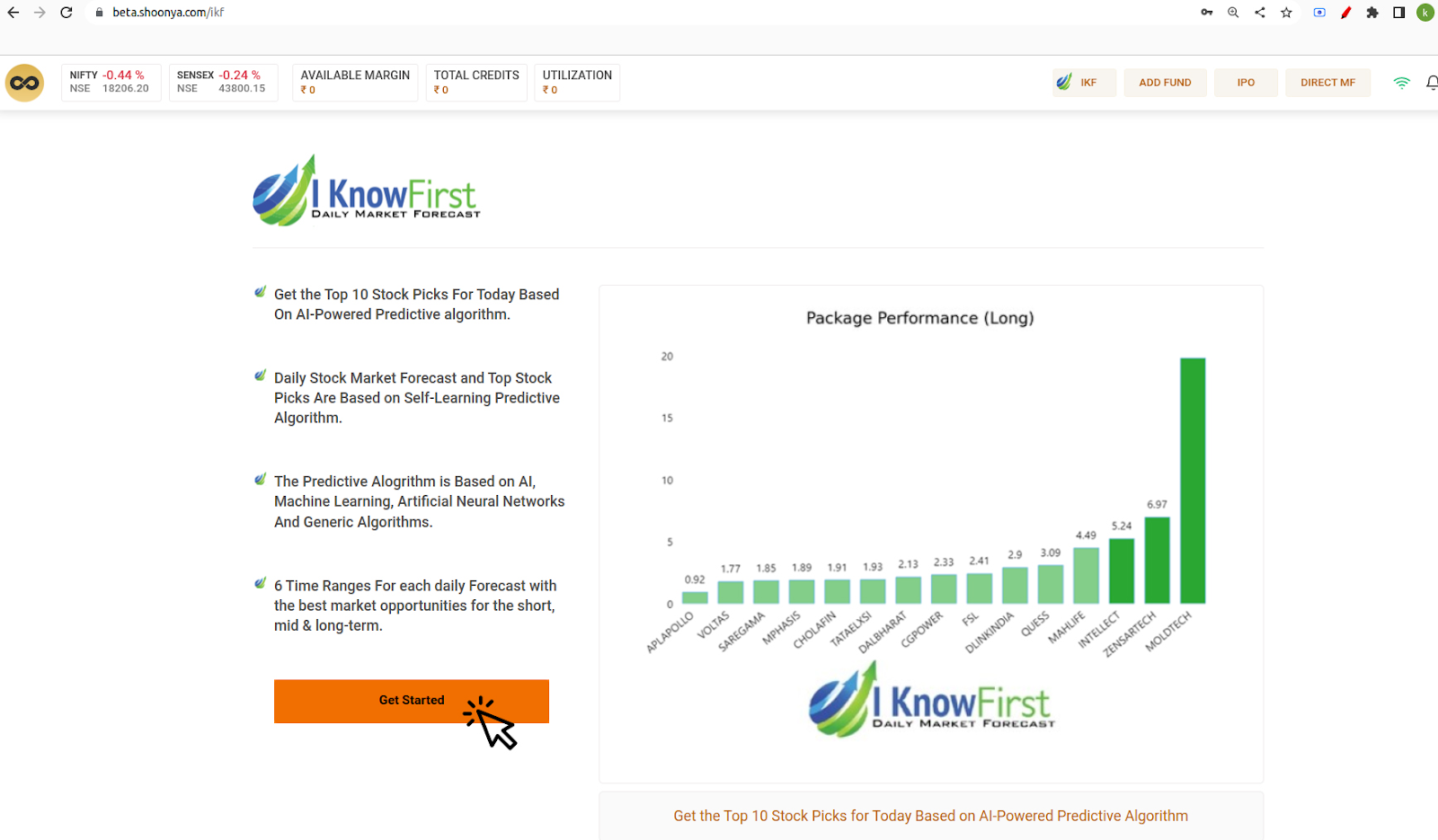 Now as you enter into the main 'I Know First' dashboard, you will see the first screen representing the red and green-marked stocks. (Ref Fig 4)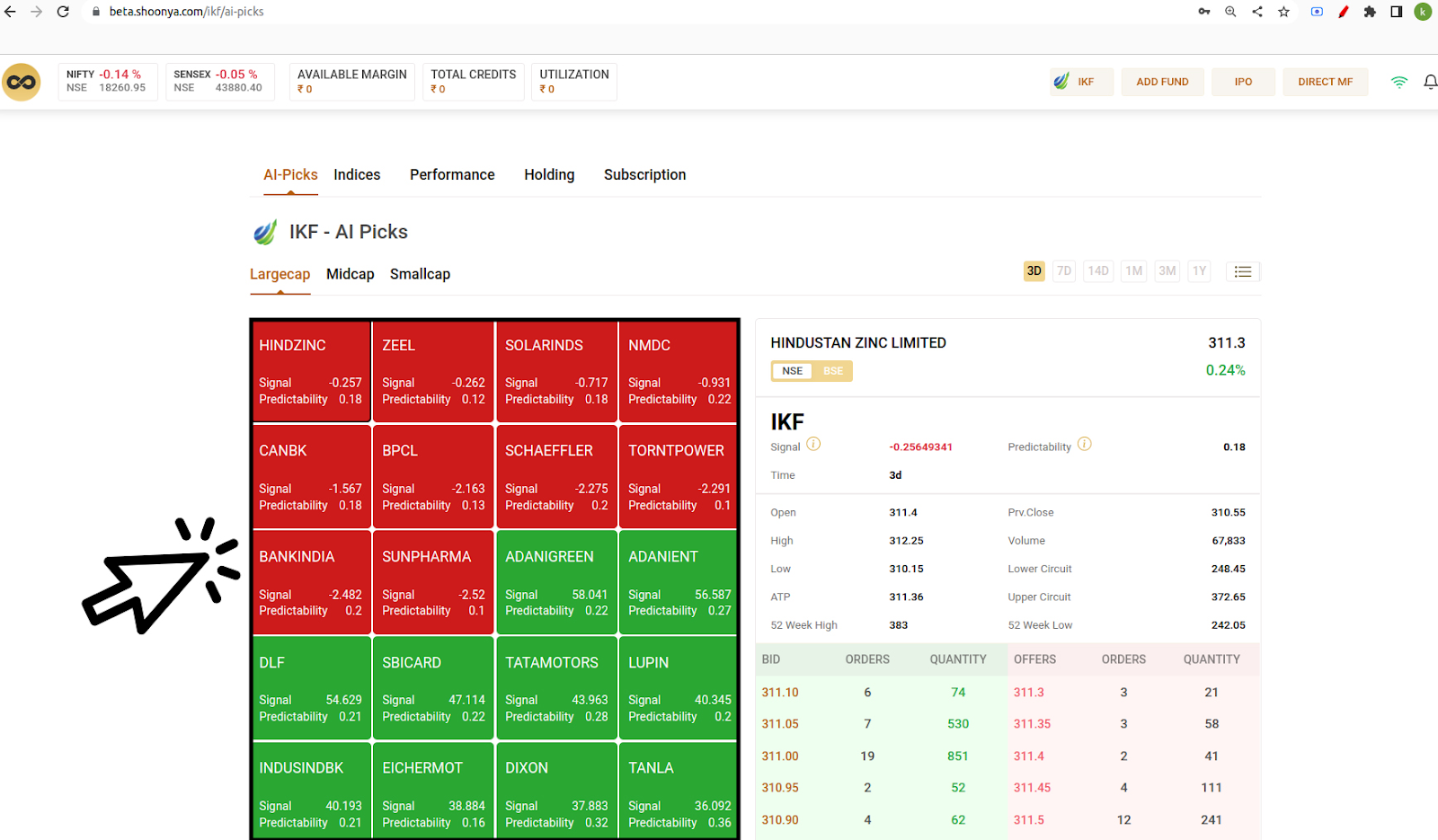 There are five tabs on the top menu – AI-Picks, Indices, Performance, Holding, and Subscription. Each of these tabs has a different purpose.
Each tab performs a unique function:
AI-Picks tab- You can click on this tab to see the top 60 stock picks analysed from the list of up to 1500 stocks from Indian Exchanges, categorised into three- large-cap, midcap, and smallcap.
Click on any of the categories, and you will see the top 10 buy (GREEN) and top 10 sell (SELL) signals for each category, along with the predictability percentage for each stock. (Ref Fig 5)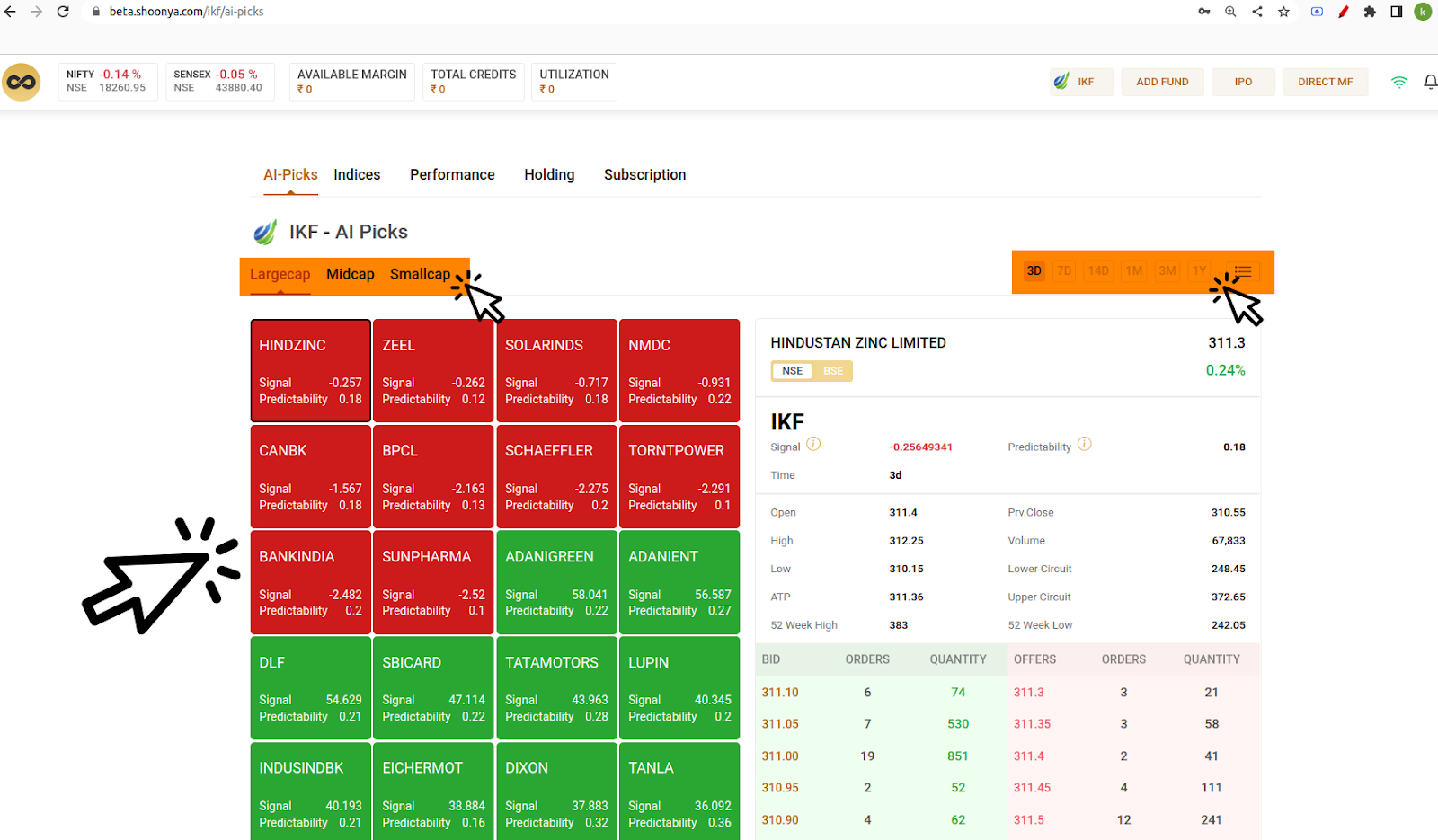 On the top right corner, you can also check the stock market forecasts (signal and predictability percentage) for each of the stock picks for up to six-time segments – 3D, 7D, 14D, 1M, 3M, and 1YR.
How to Buy/Sell any Stock using AI-based stock market predictions?
To Buy/Sell any stock, check the colour-coded signals for the stock category you are aiming at.
Check the green-coded stocks for buying and Red coded stocks for Sell.
On the right dashboard, you can simultaneously access their predictability and return percentage.
Based on this information, click on Buy/Sell button to execute your trade.
A video of the step-by-step has also been created for your convenience. You can view it here:
Indices tab- Next, you can click on the Indices tab (Ref Fig 6) to check the detailed indices on National Stock Exchange/Bombay Stock Exchange.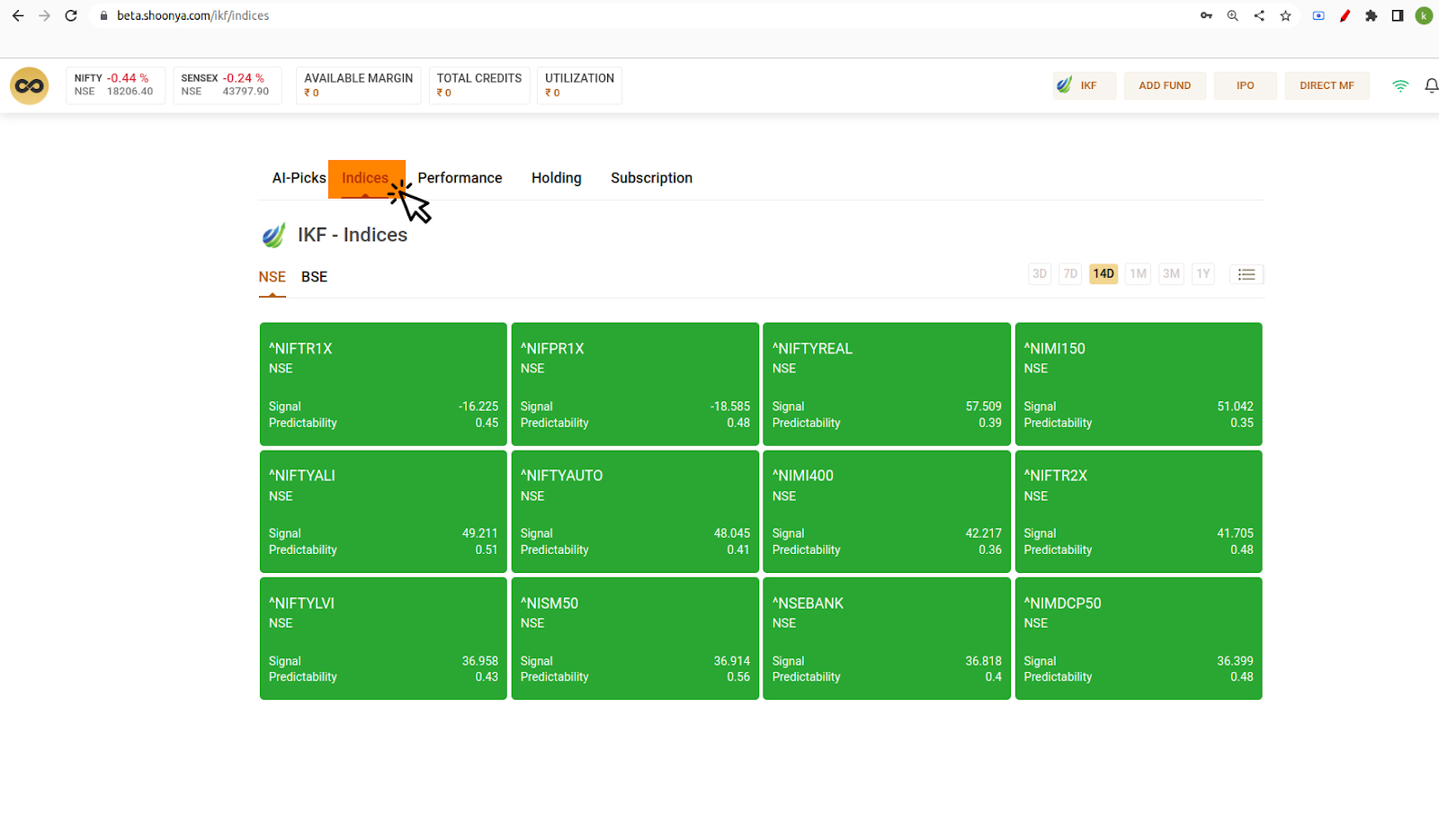 Performance Tab- The performance tab (Ref Fig 7) helps you easily check the performance accuracy, signal, predictability and return performance of any stock out of 1500, automatically categorised into large-cap, midcap, and smallcap.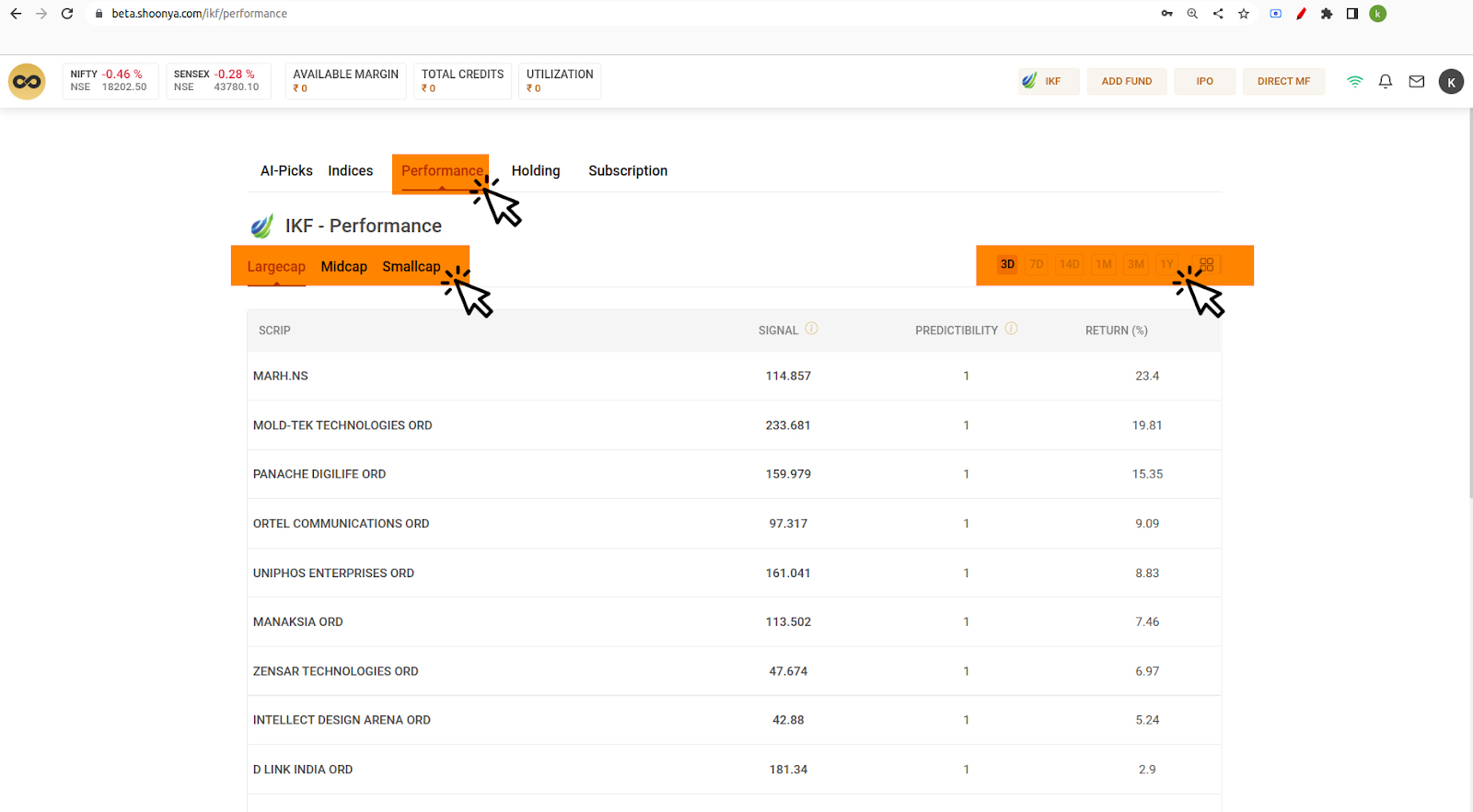 AI-based Predictions & Signals for Individual Stocks.
If you click on any stock, you can see its signal, predictability and return percentage (Ref Fig 7), which represents the predicted movement and direction of each particular stock indicating whether it is likely to increase or decrease in value along with LTP. (Last Traded Price) for each. With this, you can choose the most predictable stocks to make smart trades.
Please Note-
The signal is just a percentage estimation of future price trends; you can choose the one which shows a positive signal.
Predictability is the correlation between algorithmic predictions and actual market movements for each particular stock. The one with the maximum signals and prediction will have the most potential.
Holdings Tab– For the convenience of Shoonya users, the Holdings tab has been included. By clicking on this tab, you can easily check your current portfolio holdings. (Ref Fig 8)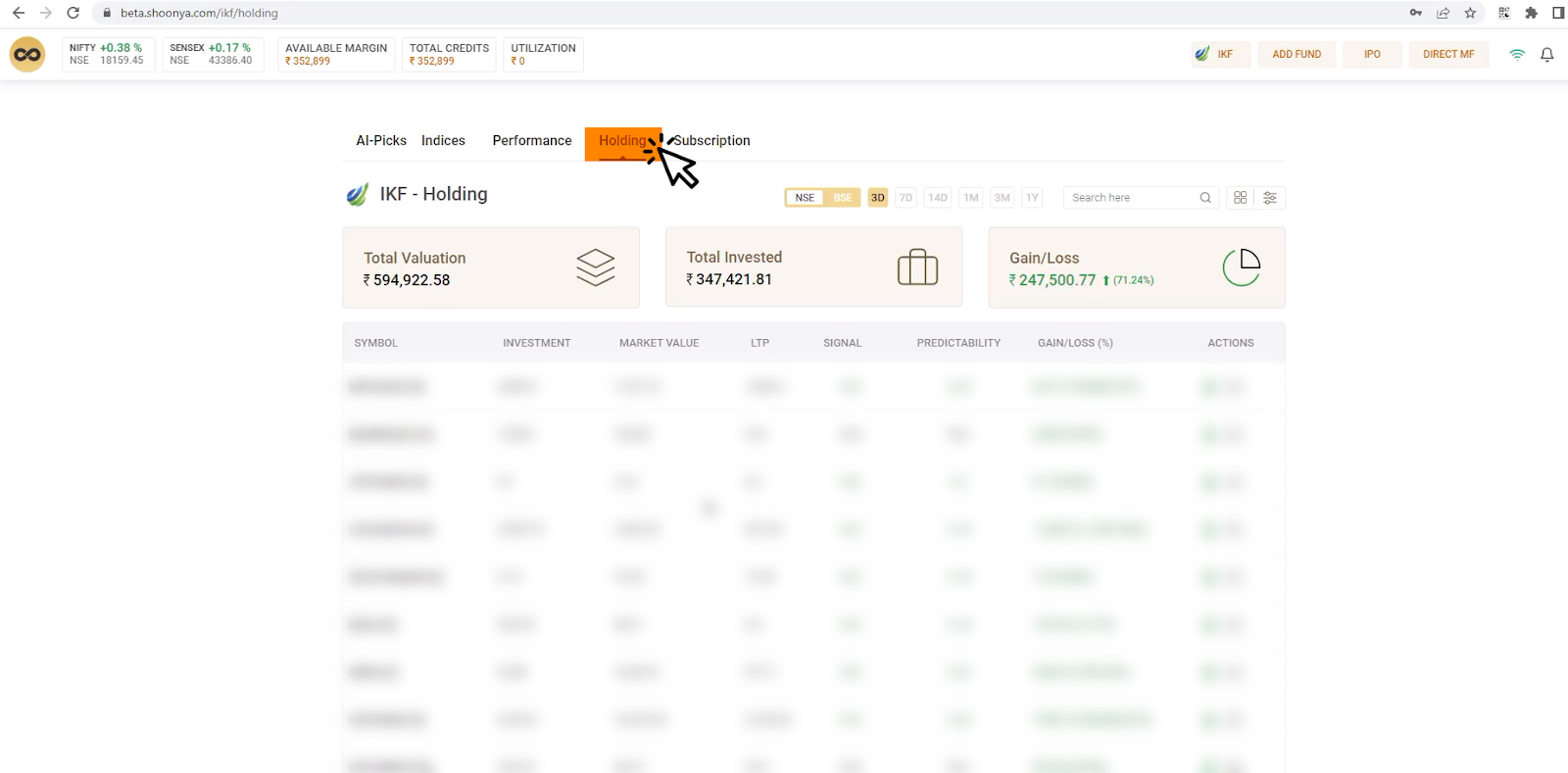 Subscription Tab– You must access this tab to update or renew your subscription plan. (Ref Fig 9)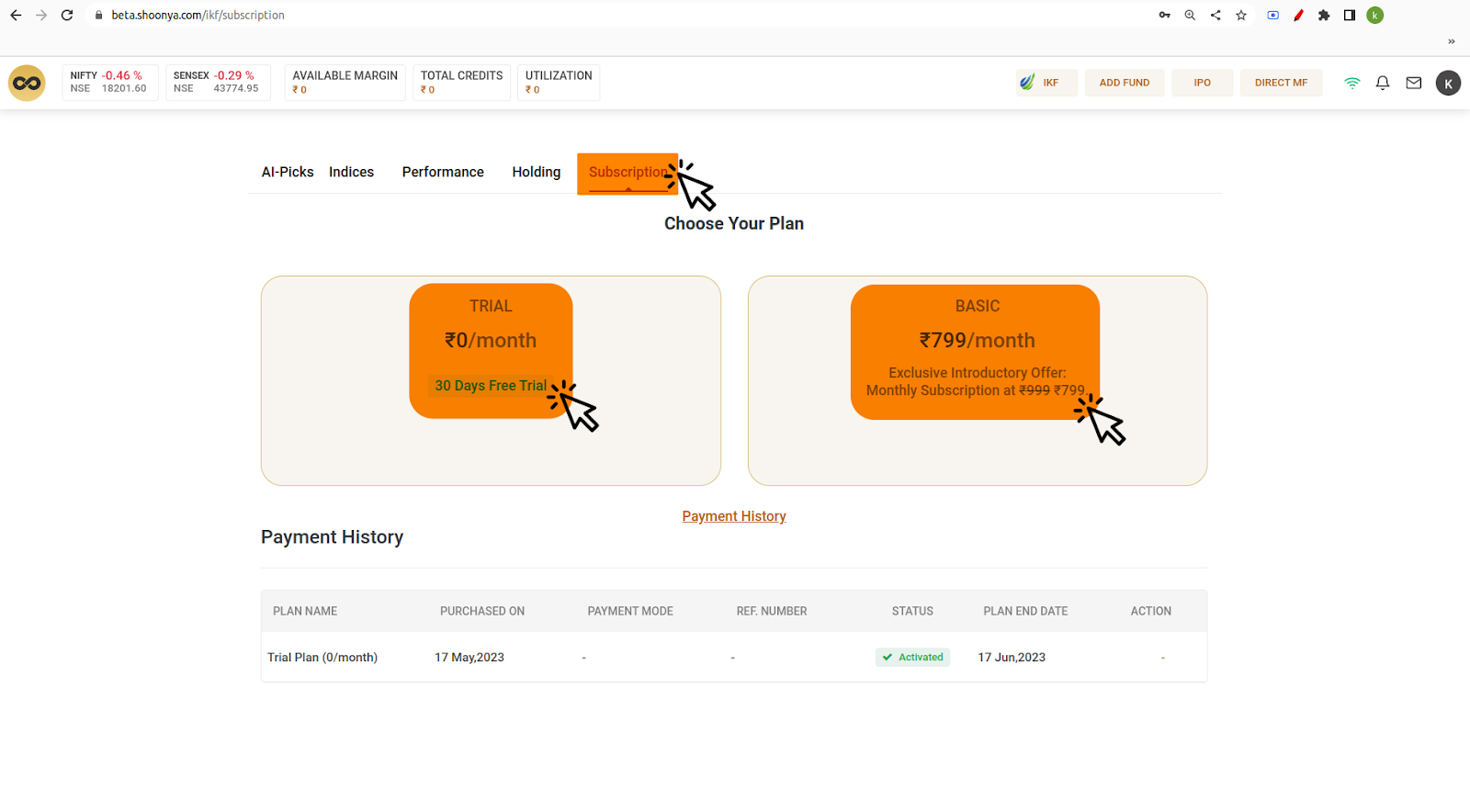 Please note that the AI-powered stock market predictions feature is currently only available on Shoonya's web portal.
Disclaimer:
This blog post is for informational purposes only and does not constitute financial advice. Trading involves risks, and past performance is not indicative of future results. Always do your own research and consult with a qualified financial advisor before making any investment decisions.
Research Analyst SEBI Regn. No. INH000011927.
Finvasia Securities Pvt Ltd (Trading App named Shoonya) and its affiliates/associates have no financial interest or beneficial ownership in the mentioned Subject Company/Companies. There are no material conflicts of interest, and no compensation has been received from the subject company in the past twelve months. Finvasia has not served as an Officer, Director, or Employee of the Subject Company/Companies and has not engaged in market-making activities for them.